*Affiliate disclaimer: This post contains affiliate links from which I may receive a commission at no cost to you.*
How many flight search engines is it possible to name? Even among super seasoned travelers, that list often runs shorter than it does long…
Kiwi.com, one of the newest entrants into this space and founded in 2012, is a Czech-based online travel agency that doubles as a fare aggregator. Aside from possibly miffing some actual Kiwis (who have a long and storied history of traveling!), Kiwi.com is best for the kind of traveler that buys a ticket to London just so they can get around to their final destination in Europe for that much less.
Flight search is relatively dominated by Google Flights, Skyscanner, and few other OTAs on the market. Even Hopper, one of the newer entrants, has been around for over a decade (since 2007), making it really not the newest kid on the block anymore.
In particular, Kiwi.com seems to be distinctive in the fact that it sells unprotected flight segments on different carriers, for bottom barrel prices.
Meaning flights can exist on separate tickets, so if a traveler miss a segment, there's a good chance they could be screwed if they aren't careful on the next flight (Kiwi.com seems to offer its own travel protections in order to protect its customers and to counteract that, more on that soon).
In most cases, when things like that happen, it is usually on the airline to rebook a passenger to make sure they make it through their final destination. The only other way it might affect a customer is that it might include checking and rechecking bags multiple times in order to get through an itinerary.
Some people have pointed out that Kiwi.com doesn't include budget airlines around Asia and Southeast Asia, so for that, Skyscanner still wins out for best budget airline coverage amongst all the fare aggregators.
(If you feel hesitant about booking on the site, using it to find the actual flights before booking direct on the airline is totally kosher. We do know actual people that have flown on their trips perfectly fine.)
Here are the main differences we've found on Kiwi.com versus other flight search engines.
Quick example of Kiwi.com in action.
Need to go to London? Prices may be a little bit bonkers elsewhere, but who knows, if you're willing to stop off in Rome, there may be savings to be had.
For a flight query for a trip to London from New York (November 3-10), Kiwi.com delivered this result for $611.90.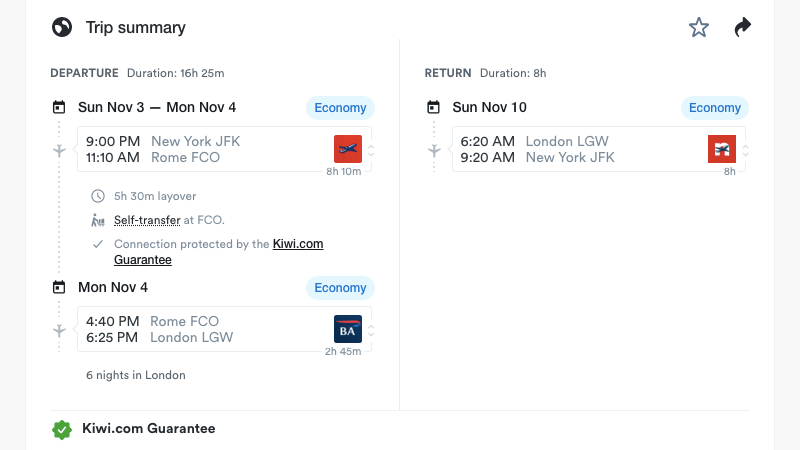 The interesting thing about this itinerary is that instead of flying straight to London, the traveler heads to Rome first, before self-transferring at the airport. In Rome, they embark on the final leg toward London; on the return, it's a direct flight to New York.
It would also seem like the plan might encompass rechecking bags, but in this case, it seems like there is plenty of time to do it all (5 hours, 30 minutes, exactly).
Kiwi.com incorporates offbeat airports.
This is fairly straightforward and makes sense from a cost-saving perspective: For instance, instead of incorporating London Heathrow (LHR) exclusively, it'll also search other airports within the vicinity like Stansted (STN) and Luton (LTN), both of which also serve London.
Others have reported that itineraries may involve airport transfers between connections. So think of hauling ass from Tokyo's Haneda (HND) to Narita (NRT) airport.
In some cases, the arrival airport on the outbound flight may be different from the departure airport on the inbound flight. That might mean arriving into London through Stansted (STN), and departing London from Gatwick (LGW).
This is one of those things that it is going to be important to pay attention, all for that pretty thing we call a dollar.
The Nomad feature finds the cheapest order of multiple destinations.
Planning a flight route with multiple destinations or an open-jaw route has always been complicated more than it needs to be. Kiwi.com's Nomad feature is designed to simplify that process.
Users are asked to select beginning and ending trip dates, and list out the multiple cities they are interested in visiting. It's a great feature if you don't necessarily care about the order of the cities, and are just looking for the cheapest price.
The flexibility in its ability to go specific or general is quite great. It is possible to leave room open in the calendar and specify a range of nights within each city, though it is as equally possible to list preferred dates in case you have to hit a conference before incorporating in some free time (cough).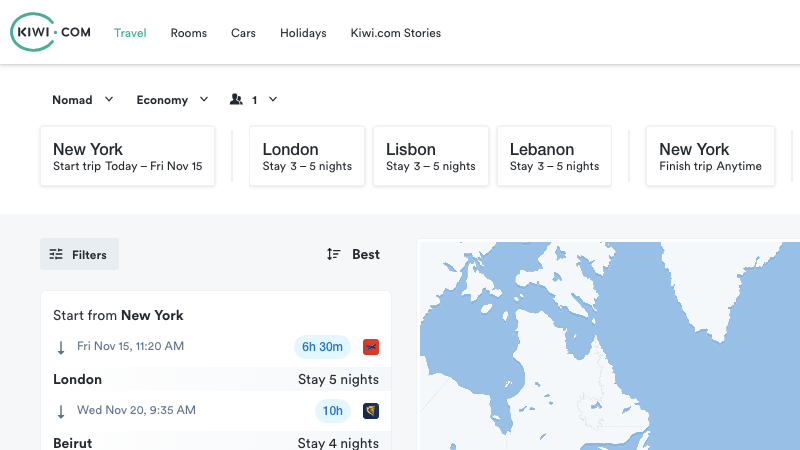 Here's a quick search incorporating New York, London, Lisbon and Beirut (with minor detours in Cyprus and Spain) that ran for all of $659.14.
To prevent confusion, the intended destination of each segment is highlighted in bold before the route.
London (November 15): JFK —> LGW
Beirut (November 20): STN —> PFO (self-transfer) —> BEY
Lisbon (November 24): BEY —> BCN (self-transfer) —> LIS
New York (November 27): LIS —> EWR
Kiwi offers its own travel protection.
Customers do need to contact Kiwi.com first before sorting things out themselves first.
Unlike Google Flights or other fare aggregators, Kiwi.com also covers travelers in case things go amok in the middle of the a trip. Customers do need to contact Kiwi.com first before sorting things out themselves first.
If the flight is delayed (so much that you'd miss a connecting flight), canceled, or there is a schedule change, Kiwi.com will offer an alternative flight or refund the cost of the unused tickets. (The main caveat is Kiwi.com will make the selection unless it is relatively close, or 48 hours, until departure.)
This also includes transfers to another airport (if so needed), overnight accommodation if the delay is more than 8 hours overnight, and food and drink if the delay is more than 4 hours.
It's not quite travel insurance, but it does help for those aha! unprotected flight segments. Read the full terms and conditions here.
Have you used Kiwi before? Let us know your thoughts below!