*Note – this review contains affiliate links from which I may receive a commission at no cost to you.*
Offering contests and giveaways are an excellent strategy to attract viewers to your website and generate leads. Wooriseis a perfect tool for generating leads and promoting your business. Woorise's excellent features for creating viral contests help your business thrive. To learn more about the method, see this Woorise review.
Woorise Review: What is Woorise?
Woorise is a marketing and lead generation solution with fantastic features. It enables you to quickly create incredible giveaways and contests, landing pages, and captivating forms such as survey questionnaires and quizzes.
Woorise helps businesses interact with consumers, generate leads, and complete transactions.
Create an endless number of interactive landing pages for giveaways and contests, forms, quizzes, surveys, and more to engage your customers. Creating attractive landing pages that inspire people to join your network or buy your items takes a few minutes.
What Does Woorise Offer?
Woorise integrates with various other digital tools, making it quick and straightforward to deliver the maximum value to each viewer. Woorise offers integration with incredible services.
Woorise can link you with significant leads and customers, develop your network, create brand awareness,  increase subscriptions and sales without hiring an agency. Analyze customer behavior during your campaign to build more engaging and enticing future campaigns and promotions. Begin with a gorgeous, well-optimized template, then tweak it to fit your brand. Then, without any technical expertise or coding, anyone can execute it in a few moments with drag-and-drop strategy and form builder.
Woorise campaigns may be embedded on your website, as a pop-up window, via chatroom, exit intention, via email, on your Facebook page, or a subdomain. Woorise comes with a highly customized landing page that allows you to link to all of your campaigns or important content from a single page. In addition, Woorise's bio link page helps share vital links for your audience in various areas. You may quickly export all of your data to an Excel spreadsheet (XLS or CSV file type) for additional research or integrating data from several campaigns.
How to configure Woorise
To set things up in Woorise, log in with your account information and go to the dashboard, which looks like this. It will display the planned usage, including total entries, entry limit, and usage time.
You'll find choices for campaigns, integration settings, and sites on the top side of the dashboard. You may change the site title, name, and timezone from the site settings. But at first, configure the timezone, which is crucial for the campaign's success.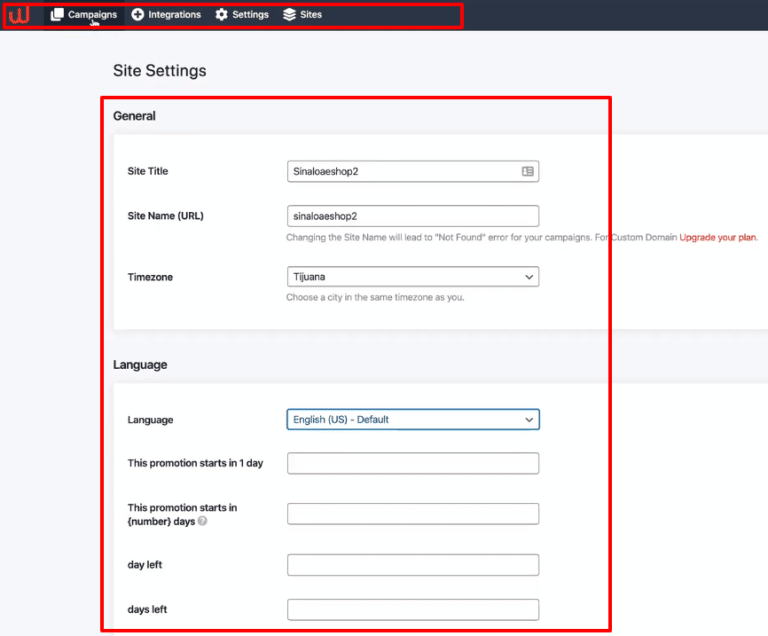 Navigate to campaigns to start a new campaign and click Add New. Let's select an Basic giveaway and click on create the campaign since we'll be making a giveaway campaign for all social media.

Then you'll see an interface similar to the one below, showing different options on the right and down portions of the screen. Find document settings like visibility, campaign status, and permalink on the right side. Styles, image settings, and many other options are available in the block option. You may customize styles, alignment, and link placement, among other things, by clicking on the templates.
The paragraph, image, title, list, and cover are available options below the template plus icon. Also, Social media formatting, layout components, and embed options. Customized design, sharing, official rules, and advanced choices are located at the bottom of the page.
The campaign's start, end, viral share, and total referrals limit may all be customized from customizing options. The background color and image may both be changed under the design option. With paid versions, you can also alter the CSS.
The sharing option lets you add the image, title, and description URL you want to show in the giveaway share. To prevent cheating, you can add official regulations to the campaign. Embed content is a feature that allows you to add media to a campaign. Advanced features include selecting the campaign's authorized regions, the instant winner, and many others. On the right, there are traditional options as well as customizable options. Drag the field into the form that you wish to include. Standard fields, advanced fields, and social actions are all choices for customizing your form.
For example, let's say you want to add a radio button. Drag the radio button from the standard fields option. It will have an interface showing general, appearance, and advanced fields.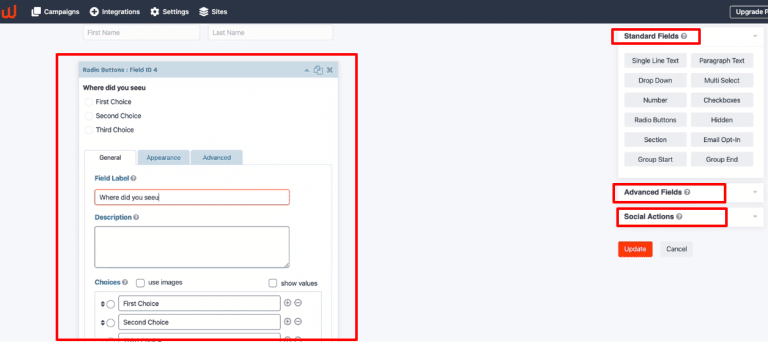 Embed includes choices such as giveaway links, WordPress plugins, code to put on a blog or website, and more.
Entries let you know the number of entries, promote let the sharing option, reports show the views, conversions rate, entries, and other information to help in marketing strategy.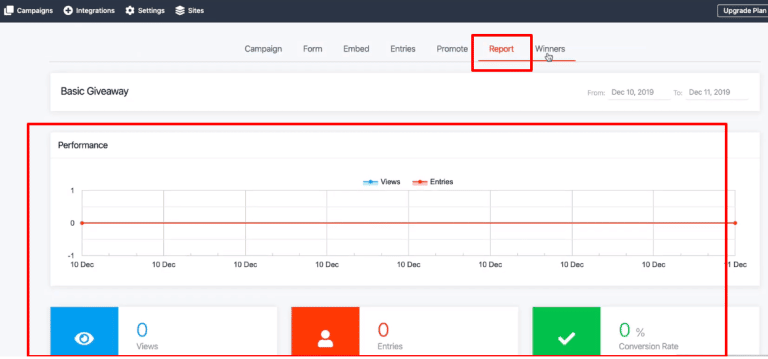 The winner option allows to choose the winner manually, or woorise can randomly choose the winner.
Pros
Woorise is an excellent tool for promoting campaigns, contests, and prizes.
The viral Share option is a must for a successful contest
Helps in email list building
Convenient survey creator
Great for beginners
Drag and drop interface
Cons
Less font collection
Have documentation but without video tutorials.
It does not allow to change icon color.
Pricing
Woorise offers both free and paid monthly and annual programs. See the whole price plan here. 
In summary
Conversion rates for contests and giveaways are high. It's a good idea to provide a 10% discount coupon or a gift card for your business. It's also a superb approach to get people to connect with items they wouldn't ordinarily contact with. Most visitors will not participate in a survey unless a contest or incentive accompanies it. This Woorise review is intended to assist you in generating more leads and increasing your return on investment.