Many businesses and entrepreneurs find themselves in need of a CRM that can help them keep track of all their leads and customers. Meet Streak.
As your business grows, the number of enquiries and customers served will be beyond what your memory can hold.
Disclosure: Bear in mind that some of the links in this post are affiliate links and if you go through them to make a purchase we may earn a commission. Keep in mind that we link companies and their products because of their quality and not because of the commission we may receive from your purchases. The decision is yours, and whether or not you decide to buy something is completely up to you.
The first question you should ask is, what do you need from a CRM?
CRM Requirements
You need a system that is easy to learn. We don't want the system to be more work, even if our team members are tech savvy.
It needs to be free. It's key to try the system without paying first. Yes, most CRM offer trials, but 30 days just isn't quite enough.
Besides, you don't want to fork out extra money for a system that won't be beneficial to us. At a tiny scale, it's easy to work off a Google sheet.
The system should integrate well to our workflow. And our data shouldn't be locked within the CRM.
Meet Streak
You'll be attracted to it by the simplicity of this CRM. It sits right in Gmail, doesn't require any effort to set it up.
Streak CRM can be used to heavily manage sales processes, tracking from leads to customers, and follow up with after-sales.
It is great for any start-ups or business owners looking to add some order to their sales processes.
Boxes
Streak is insanely simple. At the core of it are Boxes, which are folders. They can be anything; your deals, your clients. You can also add data fields that are important for your business under the Custom Columns.
For example, each Box can be treated as a new sales order. You can capture the service details such as the destination, the price, order date, the service date and more.
You can do it in any way that fits your business.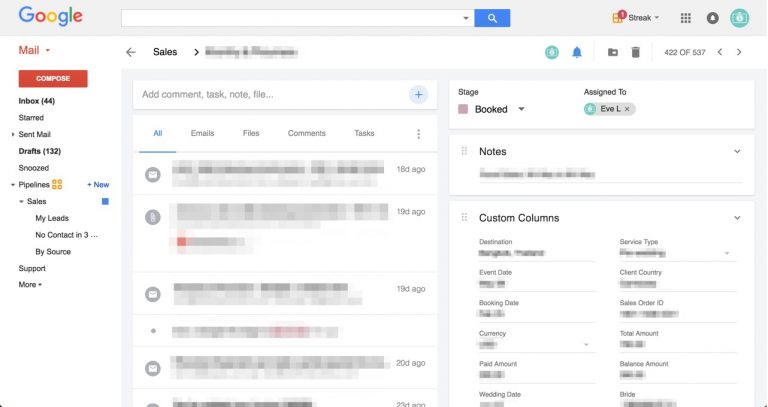 Pipelines
Each box in streak is managed by a pipeline. A pipeline is simply a list of boxes categorized based on their stages.
Streak comes with several preset pipelines; Sales, Hiring, Support, Fundraising.
We used the sales pipeline which creates a few default Stages (Lead, Closed-Lost, Success). You can add any number of stages to fit your business. For example, your pipeline looks like this:
Lead
Contacted
Chatted
Closed-Lost
Final Confirmation
Booked
Shot
Delivered
Why We like Streak
Gmail and G Suite Integration
Streak integrates nicely with Gmail. It shows up as an extra column on Gmail. There is no need to login to a separate CRM app or website to access any data. Everything in Streak is inside your Gmail.
Freemium Plan Available
Streak offers a free plan. This is excellent because potential customers have the liberty to extensively try it out and learn about the features it offers (and limits).
No Learning Needed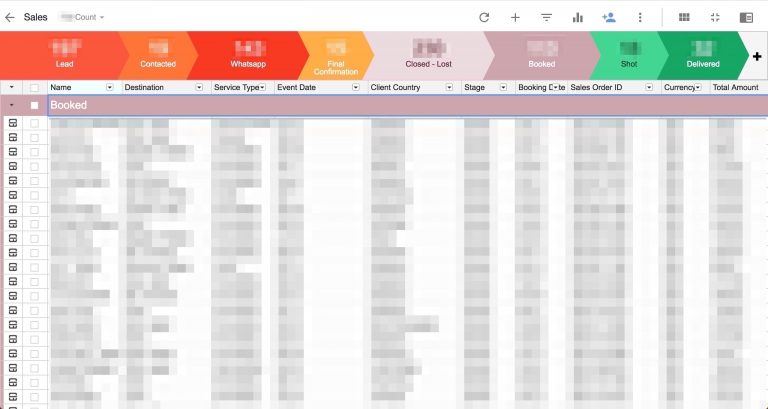 Streak is insanely simple and intuitive. When you open up a pipeline, it displays the list of boxes in a spreadsheet style.
If you are a frequent user of Google Sheets, you will feel right at home. The sort and filter functions are just like those that you will find in a regular spreadsheet. You can also directly update your details of your boxes directly without opening it up.
Track Your Emails
Once your email is read, Streak tracks the activity, such as location, device, time. You will also be notified. It is great because you know if your email is getting the attention of your leads, and perhaps, it would be a great time to follow-up with them since they have read your email.
Schedule and Snooze Your Emails
The snooze function is useful for scheduling your own follow-up emails. Perhaps, it is too early to follow-up, and you want to create a reminder in 1 week's time. Streak will send you a notification about this email at a later time.
The schedule function simply sends your email at a later time. Perhaps, it is not a suitable time to send out your email late at night. You can schedule it to send the next day morning.
Type Less with Snippets
With snippets, you spend less time typing routine emails. Plus, you can standardize the emails throughout your entire team.
Unlimited Integrations with Zapier
Streak provides an API for greater integration and automation of tasks with the system. If you're not a web developer, than the API won't mean anything to you.
But fortunately Streak is well-integrated with Zapier. You can easily hook Streak with other services that's available in Zapier.
This is how we use Streak and Zapier. Once we have a successful sale, which triggers the Box's stage to Booked, Zapier automatically adds an event in Google Calendar and a series of tasks.
Room for Improvements
Streak works best if there is a flow, which works with the pipeline concept.
Otherwise, it can get a little awkward. For example, if you want to use Streak to management payment of vendors. It just doesn't work. Would a pipeline be suitable? Should each box represent a vendor or a purchase order?  It can be hard to get your head around using Streak for the management of vendors.
Built-in Workflows and Integration
It can also be difficult to create automated tasks instead of relying on Zapier. Of course, the beauty of Zapier is that it connects to 1000s of other apps and services. But automated workflows within Streak seems like a basic function that shouldn't depend on Zapier.
Export of Contacts
If you often work from desktop to mobile, you may find that you do not have the contacts of clients inside your iPhone (if you are an iOS user). Although Streak has a mobile app for iOS, the contacts does not integrate into the iPhone. If you're hoping for the Create New Contact function via the app, you may need to look elsewhere.
Should you get Streak?
Streak is an excellent free CRM for small-business owners.
If your work revolves heavily around Gmail, then you will love it!
Go on, try Streak by installing it in your Gmail for free today.
Questions? Feel free to leave a comment below!