*Affiliate disclaimer: There are affiliate links in this article from which I may earn a commission at no cost to you*
Buying a domain name is the very first step when you decide to start blogging journey or business website. Though, there are a lot of domain name providers available on the internet where you can get desired domain (if available).
As a starter blogger, chances are you will have a limited budget to purchase web site name, web hosting, themes, and plugins, etc. And that time, saving a single dollar could help you getting these stuff. In this post, I am going to share my NameSilo Review about one of the cheapest domain registrars. Thus, this company will help you save some cash.
NameSilo is an ICANN-accredited domain registrar that was founded in 2010. You get your desired (available) website name at much lower price than many other companies. Currently, I have more than 8 domains with them and never faced any technical issue. Their domain management panel is super easy to use even a beginner user could understand it within few minutes.
You might not be heard the name before as they don't advertise too much on the internet and this is the main reason of lowest TLD's rates. They are providing an outstanding and qualitative service at a very cheap price. Primarily, NameSilo only offers domain name registration and management.
The company is entirely based on domains registry and reselling; they do not offer any web hosting. NameSilo is way better than many registrars in term of price as well as in features. Instead of using third party tools, they use in-house designed back-end tools for domain management.
Why NameSilo?
Lowest TLD (.com, .net, .org, etc.) prices compared to many other companies
They don't charge any extra money for renewals
Some companies give you domain under $1 for the first year but at the time of renewal charge extra fees
Lifetime FREE WHOIS Guard as long as you use NameSilo
Easy to manage and user friendly control panel for managing all of your domains
Free email forwarders for upto 5 different email addresses
Free domain parking and 100% revenue of parked domains
ICANN accredited registrar
NameSilo Review – Is It Really the Cheapest?
Low-Cost and Cheapest Domain Fee's
Price is the first thing to look for when choosing a domain provider. It is important to be aware, how much price a company charge for domain registration. There are numerous companies, and each of them has different prices for the same type of TLDs, the price also varies on domain extensions. Some of the domain registrars provide certain domain extensions at low-cost, but some charge extremely high price.
Nowadays, typically a ".com TLD" cost between $11~$16 but at NameSilo you can purchase it at just $8.99/year. However, .net and .org prices are not the same as of .com. They charge $9.99 for .net, $10.79 for .org and $10.39 for .info annually. Their prices are very low regarding features they offer and no one else provides a lot of free features as they do. Plus, searching with NameSilo is a breeze!
Many of the domain providers offer discounts for the first year to attract new customers. But at the time of renewal, the prices raise twice or thrice. Fixed prices is another good thing about NameSilo, so what you pay the first year, you'll pay the same on renewals.
Free WHOIS Privacy for Lifetime
Everyone wants to get freebies, and here NameSilo beats many well-named companies, they offer free WHOIS privacy for lifetime. As you know, when registering a site name you provide all the details such as name, email, phone number and address. This personal info stored in ICANN database and anyone can access it.
To hide domain buyer information you have to buy WHOIS privacy which costs around $5 to $10/year, and some companies offer it free for the first year. But, NameSilo provides 100% free WHOIS Guard for a lifetime period until you use their platform for managing domain names. Isn't it a great deal?
Bulk Domain Savings
At NameSilo, you can save big by registering multiple domains. They have a discount program where you get an additional discount on registering 50 or more domains at the same time.
You are eligible to get $15 discount on the purchase of 50 domains and on 500 domains they provide $250 discount. If you're in domain buying and selling business, then the bulk discount program is the best opportunity to save significant money. Get your NameSilo discount here!
Domain Management
NameSilo provides a very simple and easy to manage control panel where you can perform any required action and monitoring such as domain status, expiration date, name server, domain and email forwarding, and portfolio, etc. They also allow downloading the .csv file of yours domain details.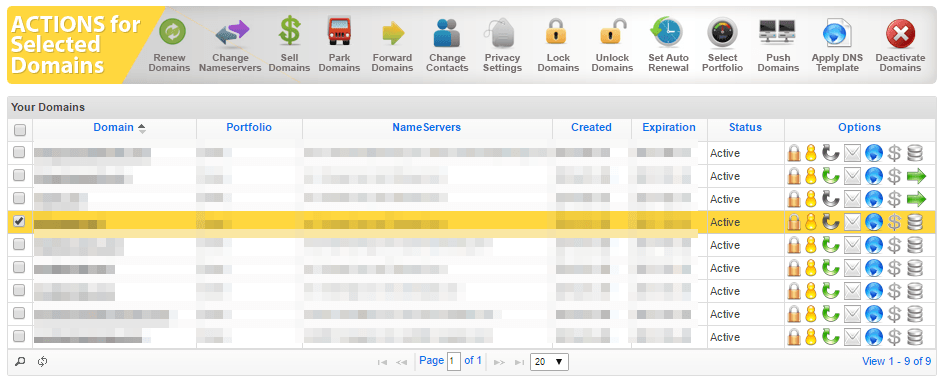 You can setup and manage DNS setting of a domain name with a few clicks. Another great feature is One-Click integration with most of the platforms (such as Blogger, WordPress, and Joomla) so you don't need to edit DNS or name server settings. It comes very handy for beginners to connect their domain with a blog or website without facing any hurdle.
Do you want to forward domain and email address? The well-designed control panel has both options, Where you can implement both functions (email and domain forwarding) with a few clicks. You can forward one email account to 5 different email addresses.
Number of Available TLDs
NameSilo is way ahead of competitors when it comes to the number of TLDs they offer. Most of the companies offer only 10-50 Top Level Domains to choose from. But it provides a large-scale of TLDs, generic-TLDs and country-code domains, So you can choose the best one according to your niche or business.
It offers top level domains that cover categories such as Business, Education, Popular, Adult, Arts and Entertainment, Food and Drink, and much more. NameSilo has more than 500+ extensions, and prices are also pretty low as I mentioned earlier. You can purchase bulk-domains to qualify for special discount offers.
ICANN Fee
Every registrar pays 18 cents of each domain annually to ICANN (Internet Corporation for Assigned Names and Numbers). Almost all the companies charge you for this fee during the checkout process.
Unlike others, NameSilo generous enough to not charge ICANN fee and pay this from their own budget. It's quite impressive, thumbs up for this.
Isn't it great that the company really wants to provide the lowest domain prices?
Domain Parking
Do you have many domains but not using all of them? With domain parking, you can earn money through unused domains. In parking mode, a page assigned to your domain which includes ads. You make money when someone clicks on these ads.
Parking is 100% free on NameSilo, and you get full revenue. You can control the page content, color, layout, ads and many other things using parking manager tool.
NameSilo Marketplace
Are you flipping domain names?
If so, then you will surely like NameSilo's marketplace. They provide a rich feature marketplace with necessary tools to manage and promote domain names along with a sales report within your NameSilo account.
They also have Domain Investor Tool to track sells and financial data. Marketplace listing is entirely free, and you don't have to pay a single penny. On top of that, you can find expired/old domains there as well. In other words, it's an extra advantage from them.
Payment Options
Don't have a credit card or PayPal account? Well, don't you worry? Because they offer a wide range of payment gateways to purchase website names.
They accept various options such as Paypal, VISA, Dwolla, Skrill, Discover, and Bitcoins. Very rare registrars who support Bitcoins.
Customer Support
NameSilo offers customer support through email tickets, live chat, and Phone call. Their ticketing support is very fast, and they reply within few hours. If you face any issue, just contact them, and they will FIX it within no time.
Unfortunately, they do not offer 24 hours live chat and phone support. Live chat and phone support system is typically available on Monday-Friday from 9:30am-4:00pm Arizona time. Their knowledge database contains articles and solutions of all types of major and minor issues.
Why Choose NameSilo for Domain Registration?
As a passionate blogger, I have tried many domain registrars like NameCheap, GoDaddy, and 1and1. NameSilo is my favorite one when it comes to prices, although it is not much popular. But their service is exceptional and worth using.
If we compare their price and features with other domain providers, then NameSilo is surely a winner. Let's compare their prices and features with GoDaddy (another popular domain registrar).
Note: The below comparison is calculated for 3 years because with long term usage you can save some bucks.
$0.99 First year discounted price

2x $14.99/year after 1st year
Godaddy called as the cheapest registrar on the internet. But, you can see that NameSilo is far cheaper than it. By using NameSilo, you can save almost $28. Isn't great?
Final Words – NameSilo
I have more than 5 domains with NameSilo and never faced any technical issue. Their control panel is simple and easy; even newbies can understand it easily. The prices are low and affordable compared to others as well.
The best thing is they provide premium features such as WHOIS privacy and domain defender without demanding any fee. Besides that, they also do not charge any ICANN fee.
If you're looking for a low cost and affordable domain registrar, then NameSilo surely the right fit for you and I recommend it without any skepticism.
Please do let me know, is this NameSilo Review helped you decide whether it's worth using or not in the comments section below. Am I missed anything about the company?
You're welcome to share feedback's to make this article more valuable and helpful.