*Please note: this post contains affiliate links from which we may receive a commission at no cost to you.*
Looking to save more time on writing?
Struggling to create content regularly?
Wish to generate "original content" in minutes on a small budget?
If so, you're in luck! AI-powered writing software like "Jasper AI" can be your one-stop solution.
While in theory services like Jasper.AI seem like an ideal solution for small sites that need to create content at a low cost; the real concern is, how effective are they in practice?
In this review, you will learn everything about Jasper AI, including its features, benefits, its working, suitability, accuracy, pricing plans, and alternatives, etc.
So, let's dive into the details—
Read on to find out why thousands of marketers, writers, and entrepreneurs love Jasper.
What is Jasper AI?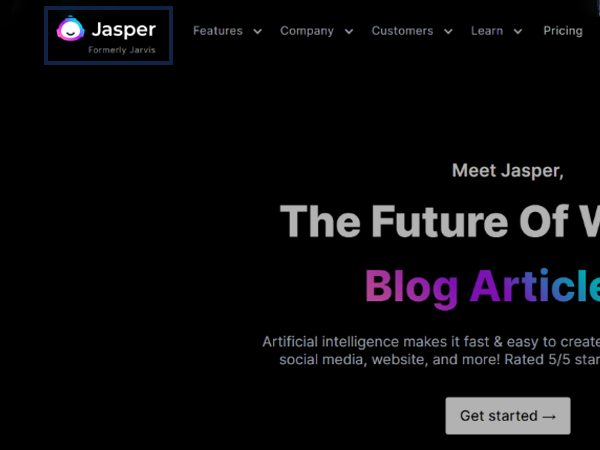 Jasper AI software is designed as a robot writer which is powered by state-of-the-art AI technology. This helps curate content up to 5 times faster than the average human copywriter.
By using Jasper AI, you can automatically create blog posts, ads, eBooks, landing page copies, stories, novels, social media posts, and more. Also, you can get 100% original content that is written accurately with zero plagiarism flags. Not only that, but you also get pre-written templates for specific categories.
Simply put, Jasper AI uses natural language processing and artificial intelligence to generate content for the users (over 50,000 people) so that they don't have to spend time writing.
Additionally, what's worth noting is that Jasper.AI generates 'SEO-friendly content,' which means that all content that a user gets from Jasper AI is optimized and geared towards attracting sales and pitches.
In other words, you can use Jasper AI to rank at the top of Google search results, to consistently get thousands of visitors, and to build loyal website traffic (which you can monetize later).
You can feed any type of keywords like Ad campaigns, specific niche blogs, and informative content to Jasper AI. After that, it will instantly deliver the desired content in the most correct format resulting in a seamless workflow without any human-like delays.
In addition, it should also be mentioned that Jasper AI has a popping interface with easy-to-navigate shortcut tools that make it very reliable to use. Above all, Jasper AI supports 25+ universal languages and 50+ templates, can you believe it?
Product name
Jasper.ai
Pricing
Starts at $29/month
Type
Premium AI content writing assistant
Free trial
Special Free Trial Offer – Claim 10,000 Words Free
Jasper use cases
You can use Jasper for blog posts, social media,
SEO, web copy, video content, etc.
Competitors
AI Competitors: Grammarly BusinessPeppertype.aiWriterContentBotWritesonicFrase.ioCopy AICloserscopy
Real People Freelancing CompetitorsPandaCopy Upwork Fiverr Freelancer.com
See how Jasper works
Jasper AI Demo Video
Jasper Boss Mode
Boss Mode Features Helps to Write Blog Posts 5X Faster
Blog posts written by Jasper
See examples of blog posts written by Jasper
Supported Languages
Jasper supports 25+ languages including "Bulgarian, Czech, Danish, German, Greek, English, Estonian, Finnish, French, Hungarian, Italian, Japanese, Latvian, Lithuanian, Dutch, Polish, Portuguese, Romanian, Russian, Slovak, Slovenian, Spanish, Swedish & Chinese (Simplified)"
Supported Templates
Jasper provides 50+ proven templates including "New Blog Post Topics, Blog Post Outline, AIDA Framework, Amazon Product Description template, Generate Persuasive Bullet Points, Blog Post Intro Paragraph, Blog Post Conclusion Paragraph, Creative Personal Bio, Email Subject Lines Template, Google Ads Headline, Google Ads Description, Facebook Ad Headline, Facebook Ad Primary Text, Creative Story, Video Script Outline, Content Improver, Content Expander & SEO Optimized Title Tags, etc."
Learn Jasper
Learn Jasper Tips & Tricks on A Live 101 Training

 

Support
Jasper Live Q&A Sessions, FAQ & Help Center and Contact Support
Who Is The Team Behind Jasper?
The Jasper.ai team consists of over 80 talented team members.
Get Acquainted to the Team behind Jasper Artificial Intelligence
Dave Rogenmoser – CEO
John Phillip Morgan – CTO
Chris Hull – COO
Austin Distel – CMO
Megan Johnson – Client Success
James Morgan – The Script Master
For several months after Jasper was first formed, the Jasper team consisted of less than 10 members. Currently, the team has over 80 members, which means the company has absolutely exploded in terms of growth.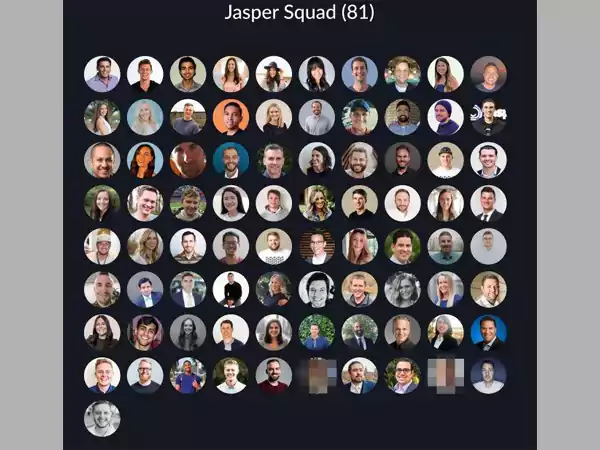 Well, to no one's surprise, such growth is one of the key factors that make Jasper superior to other AI solutions.
A Chronology of Jasper AI Company's Notable Milestones
January 2021 – Jasper AI officially launches under the name Conversion AI and focuses on copy for Facebook ads
March 2021 – Conversion AI acquires and integrates 'Headline.' It is an AI tool used for high-conversion headlines and a blog post writing assistant.
June 2021 – Conversion AI acquires and integrates 'Shortly.AI' this time. It is one of the leading GPT-3 AI content writing tools.
September 2021 – Conversion AI rebrands and called as Jarvis AI.
January 2022 – Jarvis AI eventually rebranded Jasper AI after resolving legal concerns from Disney lawyers concerning the Marvel movie Iron Man and Tony Stark's AI assistant whose name was also Jarvis.
What Makes Jasper Stand Apart? Notable Jasper AI Features List
Jasper creates 100% original content.
Generate blog posts, social media posts, stories, and much more.
Write promotional content for landing pages, ad copies, etc.
Offers plenty of content frameworks including AIDA.
Provides long-form assistance to create longer articles.
Improve existing content with Content Improver.
Write emails including subject lines.
Create scripts for videos, and offer much more.
Who Should Use Jasper AI?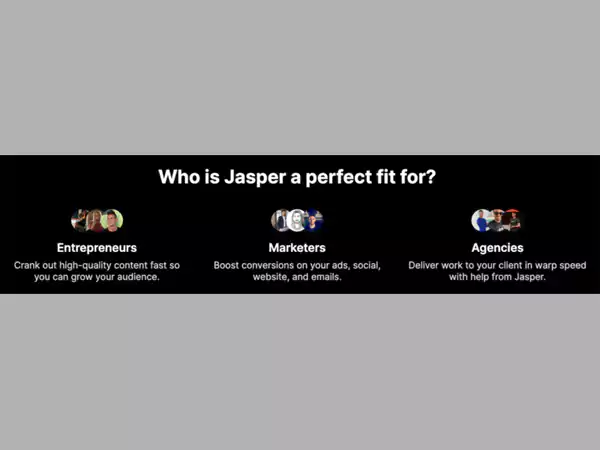 Jasper AI is basically built like a virtual writing assistant that can work 24/7 without any excuses. Not only that, Jasper AI is also flexible and reliable for multiple uses. But, let's narrow it down to a specific group of people who may find it beneficial to use Jasper AI. They are—
SEO Writers – who combine Jasper AI with SurferSEO to create SEO-rankable quality content that attracts new readers through search engines like Google and Bing!
Bloggers & Website Owners – who love to create blog posts and increase readability, implement blog post topic ideas with helpful content generated using Jasper AI!
Owner of a Digital Marketing Agency – whose job it is to write marketing copy for social media (Facebook ads), write catchy captions (capable of delivering great Pinterest pin titles), and create web copy!
High School & College Students – who need help to aid educational tasks such as writing term papers, essays, and dissertations!
Email Marketing Specialists – who create engaging email subject lines and body copy to captivate your readers and convert them!
YouTubers – who create new scripts, titles, and descriptions for upcoming videos!
E-commerce Store owners – who pump product specifications into Jarvis to be able to write engaging product descriptions with ease!
Real Estate Agents – who need to write attractive home descriptions for MLS or realty websites!
Screenwriters & Novelists – who fight writer's block by generating new creative stories or dialogue with the help of AI!
What Are the Benefits of Using Jasper AI? 
Many of you must be wondering about the benefits of using Jasper AI, right! So, let us mention that though there are many of them, but 5 major reasons to use Jasper AI in 2022 are listed below—
1. Jasper Helps You Creates Original Content  
Nobody likes duplicate content, and also, it takes a lot of time to make original content 100% plagiarism-free. But, thanks to Jasper – you can now speed up your content creation process as it quickly writes blog articles, social media posts, emails, and more for you.
To be precise, once you give some input text i.e. brief about your content, title, and keywords related to your article—it starts generating original content.
However, despite the fact that Jasper helps you create original content, note that it is always a good practice to check the content generated by any AI-based tool, including Jasper [as they sometimes generate inaccurate and false information].
2. Clean and simple interface
Even if you are new to an AI writing tool like Jasper, you can use it stress-free as Jasper provides a clean and easy-to-use interface. Still, in case you're curious, here's what the interface looks like;
On the Left side: You'll see all the options including templates, recipes, documents, and more for creating articles and content that fulfills your writing needs.
On the Right side: You'll see words generated by Jasper, so you can always keep track of your word count limit.
3. Wide Range of Copywriting Templates
It should be mentioned that one of the biggest benefits of using Jasper.ai is the variety of templates (skills) it offers. As of writing this post, Jasper AI provides over 50 content templates on its dashboard for users to choose from! They include the following—
AIDA Framework – Use the oldest marketing framework in the world. Attention, Interest, Desire, Action.
Amazon product features (bullets) – Create key feature and benefit bullet points for Amazon listings under the "about this item" section.
Amazon product description (paragraph) – Create compelling product descriptions for Amazon listings. The output is typically paragraph form, but the style will vary.
Business or Product Name – Generate a winning name for your business or product.
Blog Post Topic Ideas – Brainstorm new blog post topics that will engage readers and rank well on Google.
Blog Post Outline – Create lists and outlines for articles. Works best for "Listicle" and "How to" style blog posts or articles.
Before-After-Bridge Framework – Create marketing copy using the BAB framework. Before, After, Bridge.
Blog Post Intro Paragraph – Blast through writer's block by letting Jasper write your opening paragraph for you.
Blog Post Conclusion Paragraph – Wrap up your blog posts with an engaging conclusion paragraph.
 Content Summarizer (Coming Soon) – Enter a snippet of text and let Jasper return a quick bullet-point summary.
 Content Improver – Take a piece of content and rewrite it to make it more interesting, creative, and engaging.
 Company Bio – Tell your company's story with a captivating bio.
 Creative Story – Write deliciously creative stories to engage your readers.
 Explain It To a Child – Rephrase text to make it easier to read and understand.
 Engaging Questions – Ask your audience creative questions to increase engagement.
 Email Subject Lines – Write compelling email subject lines that get readers to open them.
 Facebook ad headline – Generate scroll-stopping headlines for your Facebook Ads to get prospects to click, and ultimately buy.
 Feature to Benefit – Turn your product features into benefits that compel action.
 Facebook Ad primary text – Create high-converting copy for the "Primary Text" section of your Facebook ads.
 Google Ads headline – Create high converting copy for the "Headlines" section of your Google Ads.
 Google Ads description – Create high converting copy for the "Description" section of your Google Ads.
 Google My Business – What's New Post – Generate what's New post updates for Google My Business.
 Google My Business – Event Post – Generate event details for your Google
 Google My Business – Product Description – Generate product descriptions for your Google My Business.
 Google My Business – Offer Post – Generate offer details for your Google My Business offer posts.
Jasper.ai Testimonial Helper – Use this template to generate testimonials for Jasper.ai.
 Marketing angles – Brainstorm different angles to add vibrancy to your marketing.
 Personalized Cold Emails – Write cold emails that actually work and get responses.
 Pinterest Pin Title & Description – Create great Pinterest pin titles and descriptions that drive engagement, traffic, and reach.
 Press Release Title & Intro – Write the opening paragraph of a press release that people will actually want to read.
 Personal Bio – Write a creative personal bio that captures attention.
 Perfect Headline – Trained with formulas from the world's best copywriters, this template is sure to create high-converting headlines for your business.
 PAS Framework – Problem-Agitate-Solution. A valuable framework for creating new marketing copy ideas.
 Product description – Create compelling product descriptions to be used on websites, emails, and social media.
 Persuasive bullet points – Generate persuasive bullet points to insert into landing pages, emails, and more.
 Photo post captions – Write catchy captions for your Instagram posts.
 Poll Questions & Multiple Choice Answers – Engage your community and get to know them on a deeper level. Create questions with multiple choice answers.
 Quora Answers – Intelligent answers for tough questions.
 Review Responder – Write responses to public customer reviews that are winsome, professional, and delightful.
 Real Estate Listing – Residential – Creative captivating real estate listings that sell homes quickly.
 Sentence Expander – Expand a short sentence or a few words into a longer sentence that is creative, interesting, and engaging.
 SEO – Services Pages – Title and Meta Descriptions – Write SEO-optimized title tags and Meta descriptions that will rank well on Google for company services pages.
 SEO – Blog Posts – Title and Meta Descriptions – Write SEO-optimized title tags and Meta descriptions for blog posts that will rank well on Google.
 SEO – Homepage – Title and Meta Descriptions – Write SEO-optimized title tags and Meta descriptions for homepages that will rank well on Google.
 SEO – Product Page – Title and Meta Descriptions – Write SEO-optimized title tags and Meta descriptions that will rank well on Google for product pages.
 Text Summarizer – Get the key point from a piece of text.
 Unique Value Propositions – Create a clear statement that describes the benefit of your offer in a powerful way.
 Video Script Hook and Introduction – Create a video intro that will capture your viewer's attention and compel them to watch all the way through.
 Video Description – YouTube – Create unique descriptions for YouTube videos that rank well in search.
 Video Topic Ideas – Brainstorm new video topics that will engage viewers and rank well on YouTube.
 Video Script Outline – Create script outlines for your videos. Works best for "Listicle" and "How to" style videos.
 Video Titles – Create engaging, click-worthy titles for your videos that will rank on YouTube.
 Website sub-headline – Create delightfully informative sub-headlines for your websites and landing pages.
So, it doesn't matter whether you run a business, WordPress blog, YouTube channel, or any kind of content creation; there's a Jasper content template for everyone out there! You can use these templates to write any type of content you want.
4. Boost Social Media Engagement
No matter if you are running a website or a small business, you need social media to generate traffic and increase your revenue. Not only that, you need to make social media posts regularly to build an audience.
However, coming up with ideas for social media posts every day is not easy. Hence, Jasper comes to play its role as it helps you to come up with new ideas and create better posts for the needs of social media.
In regard to this, Jasper also offers plenty of templates that you can use to boost your engagement on social media. That being said, here are specifically listed some of the social media templates offered by Jasper;
Content Improvers
Creative Story
Photo Post Captions
Personal Bio
Pinterest Pin Titles & Descriptions
Engaging Questions
Quora Answers
5. Makes Content Creation Process Much Easier
You all know that writing is a creative act and creativity requires time. But, let's agree that we all have time constraints. We are so busy that we don't have enough time to create great content every day. So, ultimately you have to choose between spending most of your time writing or not creating a lot of content.
That's when tools like Jasper help you not to make such difficult choices as it creates content faster than a human writer ever would!
This software does all the writing and research on your behalf and helps you edit it before saving it as your own. In other words, with just a few clicks, you can go from idea to content completion and all this is a matter of minutes.
As Jasper AI can create content for blogs, emails, social media posts and more so, all you have to do to blog consistently is to choose your option;
6. Effective Email Marketing
Whether you know it or not, email marketing is one of the best strategies that help you in higher ROI because email marketing helps you to increase your traffic and sales on your website. But, the art of creating compelling emails is not easy.
So, if you want to get high open rates and conversions with email, you'll need something like Jasper that not only helps you come up with ideas for your next email, but also comes up with creative subject lines to increase the open rate of your email.
To give you enough of an idea, here's what the Email Subject Lines' template on Jasper looks like—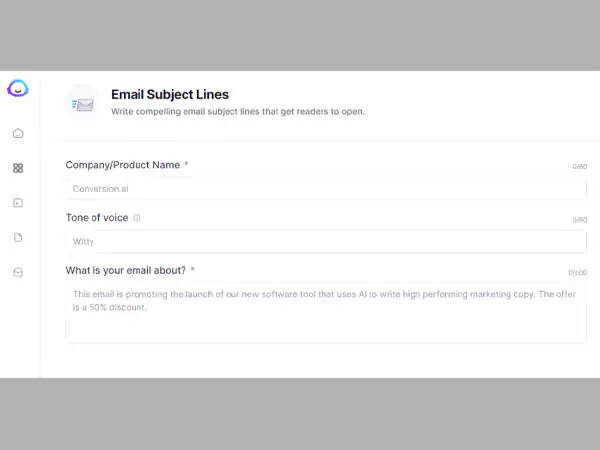 How Does Jasper AI Work?
If you wonder how Jasper works, know that Jasper AI uses the power of both artificial intelligence and machine learning to create human-like text and persuasive copy for blog posts, ads, social media posts, marketing emails, and more.
It takes into account the minimum amount of information you provide and then, it searches the web to create content relevant to the topic you are covering.
With that, you also have the option of creating new content by selecting a format and creating a title that summarizes the article you want, and even choose a tone that you want it to follow throughout.
The tone choices range from "informative to Joe Rogan". As you get more used to it, it learns intuitively, adapts to make content more personal and works with your voice.
Note: Since it uses the web to create, the more widely the topic is covered, the more information needs to be extracted from different sources. However, more information being available also means that more misinformation is available, making it harder to tell facts from fiction.
To be specific, Jasper uses GPT-3 technology (an autoregressive language model) in the background to create high-conversion content in a matter of seconds. It was created by OpenAI, an artificial intelligence research laboratory based in San Francisco.
However, if this sounds too technical and confusing, move on to the next section, and you'll be well on your way to creating content and becoming a part of Jasper Nation.
How to Use Jasper AI Writing Tool to Write Blog Posts/Content? A Guide
Since Jasper AI has a simplified interface with handy features, you don't need to search for tools if you need a tool. But, if you are new to using tech-based software or AI-powered applications, it might seem a bit daunting for you initially, but eventually, you will get used to it with time.
So, to help you get started, we have also included this handy guide on how to use Jasper AI—
STEP 1: First of all, you need access to Jasper AI Tools. For that, you can click on this link.
STEP 2: Once you have access to Jasper Tools, open the Long-Form Assistant (it helps you write long-form articles from beginning to end) from the Jasper Dashboard's template section.
STEP 3: Now, when you click on it, you'll be asked to create a new document. For that, you'll have two options;
Start from scratch
Get help with blog post workflow
STEP 4: Out of the two, you can choose the "Blog Post Workflow" option, and it will take you to the "Blog Post Setup" page.
STEP 5: In the above image, you will see that you have to complete the given 3 steps. So let us now discuss them;
Describe The Content You Want To Create:
To create better content with Jasper, you have to describe exactly what you want Jasper to write because Jasper is just a tool and the quality of content generated by Jasper completely depends on the person who is using it.
So, the more relevant and precise the input you give, the better content Jasper can create—it is as simple as that.
Still, let's understand it with this example— suppose you want to create an article about "Starting a WordPress Blog." For this, you can enter input like "Write about how to start a WordPress blog" and include some keywords that you want to mention in the article.
In regard to this, let us tell you that you can include up to 3 keywords at a time. However, if you wish, you can also skip entering keywords in the Keywords section as they are optional.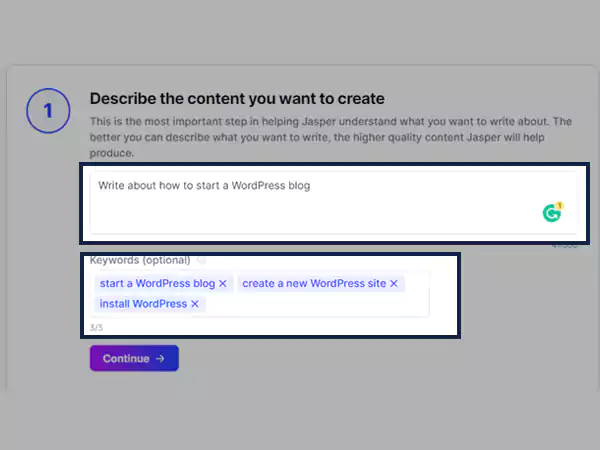 Enter a Title:
In the second step, you need to enter a title. To do so, you can either create your own title or let Jasper do the job for you.
If you prefer Jasper to create a title for you, you can just look at the following headline samples that Jasper generated.
In addition to this, it is worth mentioning that if you don't like these suggestions, you can create the headlines using "Generate more ideas".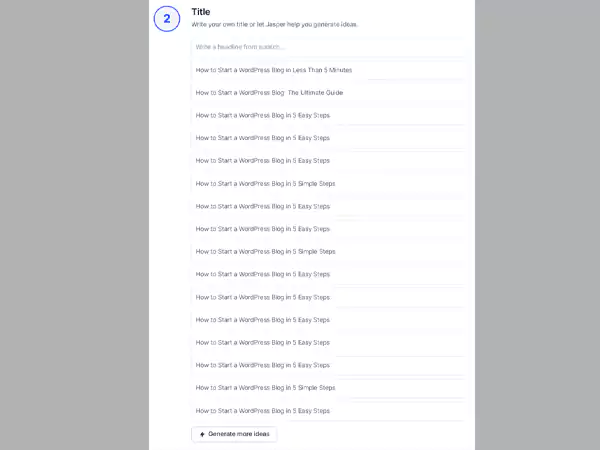 To be precise, you can either pick any Jasper given headline that's compelling to you or click on "Generate more ideas" to get your hands on even more headlines that suit the content you want to create.
Write An Introduction Paragraph:
The third and final step is to write an introduction. To do this, it is again the same—you can either write your own introduction or let Jasper do the work for you.
In the latter case, you just need to click 'Generate More Ideas' under the "Introduction Paragraph" section, and it will immediately generate an introduction tailored to your content like this;
In the given image, you can see that Jasper has generated 3 different intro lines, you can either choose any one of them or click on generate more ideas to create more intro lines.
Now, once you're done with the aforementioned discussed 3 steps, it means your writing setup is completed.
STEP 6: As the writing setup gets completed, click on the 'Open Editor' button.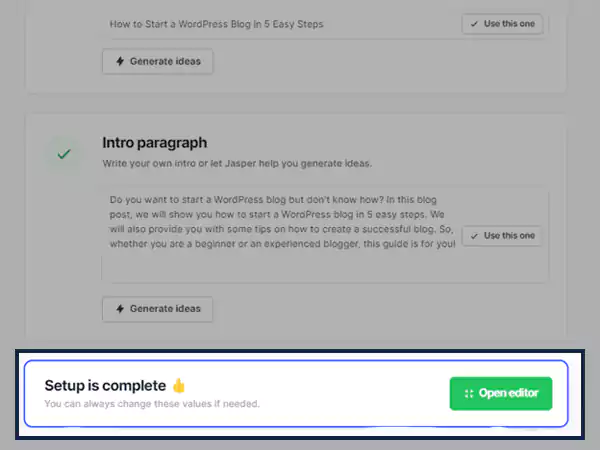 STEP 7: Doing so will open the editor after which you will have to switch to 'Power Mode' as it gives you access to over 50 copywriting templates in one place. To make it easy for you to understand, here's what it looks like;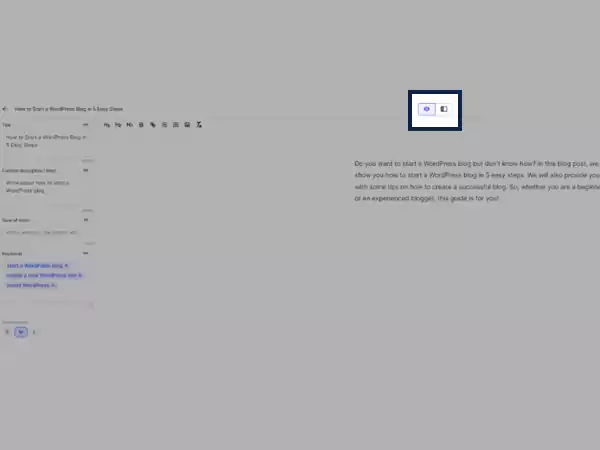 STEP 8: Next, on the left-hand side, you'll find the title, content brief, tone of voice, and keywords. So, if you want a specific writing tone, you can also enter that in the "Tone of Voice" section. For the same, these are some of the writing tones you can use to create content;
Bold
Casual
Funny
Feminine
Masculine
Professional
Secretive
Sarcastic
Witty
STEP 9: Now that you've completed the entire writing setup, know that before you start writing any post with Jasper, be sure to create an outline for the post, which you can either do yourself or use Jasper's "Blog Post Outline" template.
[Note: Jasper's Blog Post Outline template helps you quickly create lists and outlines for articles.]
STEP 10: After that, you just need to select the 'Blog post outline template', enter the 'blog post title', and hit the 'Generate AI' button to leave it on Jasper as it will instantly generate the outline for your article like this;
Once you've selected your article's outline, copy and paste it into the editor.
Note: If you're not happy with the outline that Jasper has created for your favorite topic or title, you can click the 'Generate AI Content' button in the blog post outline template to automatically generate more outlines for your article.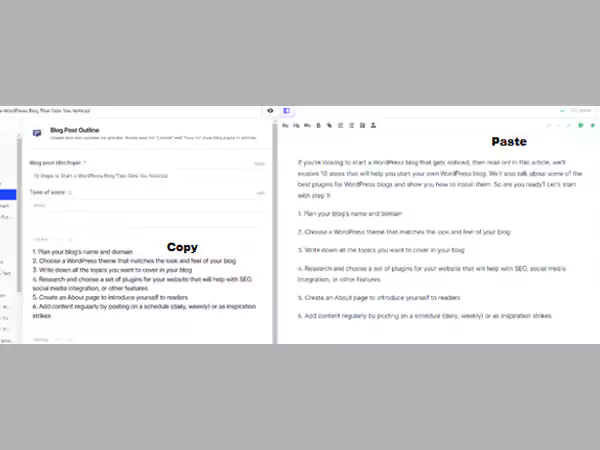 STEP 11: Right after you've entered the outline for your article in the editor, you can start filling the outline with relevant information. Basically, to generate better content with Jasper, you need to write at least one sentence below the outline yourself.
Following that, you can select the desired 'Output length', either short, medium or long. Once that is done, hit the 'Compose' button and now, Jasper will automatically generate the rest of the content for you.
Note: If you are not happy with the content generated by Jasper, you can always press the 'Erase Last Output' button to delete the content and rewrite it with another version of the content.
This is how you can use Jasper to create content. However, if that's not enough, to learn more about Jasper, you can open the free Jasper Bootcamp. Here you'll find tons of video tutorials on how to use Jasper like a pro.
Q: Is There A Quick Way To Create Content With Jasper?
A: Yes! If you're looking for a quick way to quickly create better content with Jasper, you can try the 'Paragraph Generator' template. When you click on this template, enter some text in the field to explain 'What is your paragraph about?'
In addition, include keywords and tone of voice. After that, click on the 'Generate AI Content' button and Jasper AI will automatically generate the most logical, useful or original content for you in the form of paragraphs.
Jasper AI Pricing Plans
Once you look at the pricing plans of Jasper AI you will agree that the biggest selling point of this software is none other than its price (on the surface).
When you only think about the upfront cost, this is incredibly economical, especially when compared to the hourly or per-project rate of hiring a freelancer.
| | | |
| --- | --- | --- |
| The Starter Plan: | It is priced at $29/month and goes up to $499/month for 600 characters of output and 20,000 words. | This plan is great for beginners who're new to AI writing tools. It offers unlimited user logins, 5 project folders, and 50+ AI Copywriting templates for writing short copy which is suitable for something like Facebook Ads, social media posts, product descriptions or brief email blurbs. Additionally, Jasper AI Bootcamp, auto-save and 25+ language support are also enabled. |
| The Premium Plan (Boss Mode): | It is priced at $59/month and goes up to $3600/month for up to 3000 characters and 50,000 words. | It is suitable for teams, agencies, and professional writers who want to save time and boost up their content production.  Well because it gives access to everything in Jasper AI ranging from long-form content to 5x faster to in-built plagiarism checker to revision history to Jasper AI certifications to SEO mode to customizable recipes to 50+ copywriting templates, and more. |
| The Customizable Plan: | It is priced at $3600/month for over 5 million words. | It allows you to increase the word length and customize the pricing in Jasper as per your convenience. For example, you can set the word length to 50,000 or 70,000. |
To be precise, Jasper mainly offers two pricing packages i.e.
The Starter Plan
The Boss Mode
Jasper Starter VS Boss Mode Plan – Which One is Right for You?
If you are wondering between these two plans 'how can you choose the one that suits your needs?', then have a look—
The Starter Plan
The Starter plan is best for those who want to generate short-form content. For example; it is useful for hobbyists.
Features of Starter Plan
20,000 credits/month
6000 character lookback
5 user login access
Unlimited Projects
Support content in 25+ languages
Access to over 50 templates including ads, headlines, descriptions, etc.
The Boss Mode Plan
The Boss Mode plan is suitable for those who want to generate long-form content. For example; it is useful for bloggers and content marketers.
Features of Boss Mode
50,000 words credits/month
3,000 character lookback
Support content in 25+ languages
5 user login access
Recipes
SEO mode
Plagiarism checker
Contains the Grammarly basic
Access to over 50+ copywriting templates
Priority chat support
Command Jasper to create the type of content you want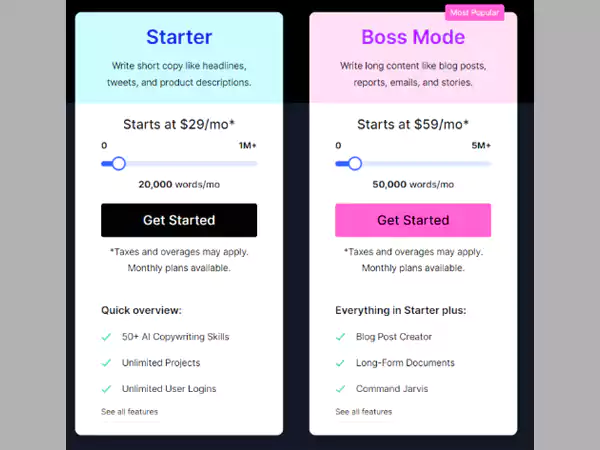 | | | |
| --- | --- | --- |
| Jasper AI Pricing Plans | Starter | Boss Mode |
| Cost | $29/month | $59/month |
| Words Per Month | 20,000 Words | 50,000 Words |
| Bonus Word Packs | $10 for 5,000 Words | $30 for 30,000 Words |
| Account User Logins | Unlimited | Unlimited |
| Writing Length | Short-form | Long-form |
| Input Length | Good Context | Great Context |
| 50+ Templates | ✓ | ✓ |
| 25+ Languages | ✓ | ✓ |
| Blog Post Assistant | ⨉ | ✓ |
| Documents | ⨉ | ✓ |
| Jasper Commands | ⨉ | ✓ |
| SEO Mode | ⨉ | ✓ |
| Recipes | ⨉ | ✓ |
| Plagiarism Checker | ⨉ | ✓ |
| Grammarly Integrated | ⨉ | ✓ |
Jasper Free Trial
Another best thing about Jasper AI is that it offers 5 days free trial for all the users. In this regard, it should be mentioned that you will get free access to the tool for 5 days with 10,000 credits, so that you can generate up to 10,000 words for free with the Jasper Free Trial.
Note: To create a free account with Jasper AI, you can either use your Google account or another email account.
Q: How do I get Jasper AI for free?
A: To get the Jasper AI free offer right away, you've to simply follow these steps:
1. Visit the official website of Jasper by using this link. This will activate the free trial offer for you.
2. After that, you will see a 'Claim 10,000 Words Free' button there. Click on it.
3. After that, you need to also click on the 'Free for Free' button which is in the top right corner of the page.
Jasper AI Customer Support That Jasper AI Offer
Despite the Jasper AI software being quite impressive, it is important that it is backed by helpful support and customer service if you need any help—
1. Email
Whenever you want Jasper AI support, just email "hey@jasper.ai" or, if you're using the Jasper AI app, there's a "floating help" button at the bottom-right that you can tap to get a faster response.
Once you do so, you'll have the option to – watch Jasper training, ask the community, join a live Q&A call or ask for support.
For instance, if you choose the "Get support" button, it opens a page where you get instant answers via Jasper documentation help articles. Alternatively, if you select the "Ask" tab, you must first submit a support ticket and then, you will receive a reply within a few hours.
Overall, Jasper AI customer service has been excellent compared to other tools, and they offer rock-solid chat support as well as hands-on documentation, training videos, and live webinars with fast response.
2. Jasper Official Community – Thriving Facebook Group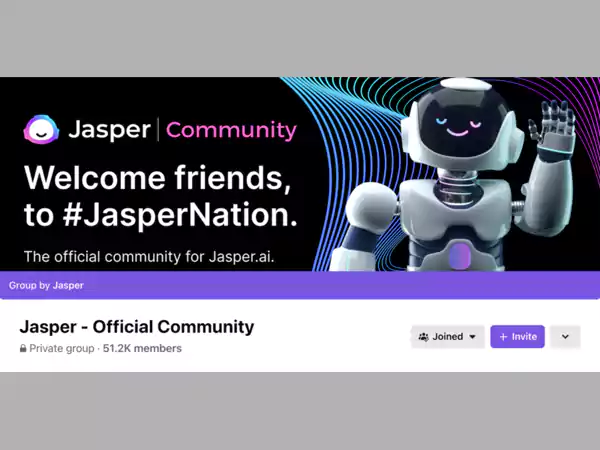 Once you have signed up for Jasper AI, you can also join the private Jasper Official Community which is a thriving Facebook group.
This means that Jasper AI subscribers are able to network and discuss tools, AI content generation and marketing tips within their AI copywriting community which is a really helpful Facebook group.
Note: Jasper.ai Facebook Group grew to 50,000 members after just 10 months and is continuing to grow at a steady rate every month.
Here, you'll get all the latest updates from the Jasper.ai team, learn how to use Jasper to write better copy, and be able to connect with other like-minded bloggers, entrepreneurs, and marketers.
So, it wouldn't be wrong to say that if you are a Jasper AI user, this is a really cool advantage as you will have access to a free group of over 50,000 other users who you can learn from.
3. Training Bootcamp
Last but not least, you can also go through Jasper's 45-minute "Training Bootcamp" which is filled with fun educational videos and lessons created by the Jasper team. Basically, it covers all the basics you need to know how to use this tool like a pro.
Pros & Cons of Jasper Software Tool
While there are many reasons to prefer Jasper, like any other software, it also comes with its own set of drawbacks. So, in order to be neutral, listed below are some of the pros and cons of Jasper AI for you to compare—
Pros
Essentially, the service serves its purpose and does what it says! So, overall, these are the main things that make Jasper AI an absolute treasure since its release—
Anyone can use it.
Speed up your work 5 times faster.
Supports 25+ universal languages.
Over 50 content templates to use (e.g. YouTube video descriptions, Facebook headlines, Product descriptions, Email subject lines, etc.)
Produces SEO-friendly content that can help rank at the top.
Great for short copies.
100% Original & Plagiarism free Content.
Best AI Copywriting Tool
Very Active Facebook Community
Robust built-in customization tools to elevate your work and take your content to the next level.
Excellent Support
Help overcome writer's block, give ideas for blog posts, and create better outlines.
Useful Jasper AI recipes for Boss Mode.
Pretty inexpensive for even the most all-inclusive plans it offers.
Cons
As this is a new concept, there are some issues that still need to be worked on, and they are listed—
You can see the repetition of words.
Unlimited plans are no longer available for new sign-ups.
Gathers information from all around the Internet and doesn't really fact-check any of it
No source provided, so you can't double-check where it got its information.
For longer format content, you must choose the Boss Mode plan, the Starter plan will not work.
Editing is required in the Content it creates. If you want quality content, you'll have to skim through the content it creates and edit it before you can use it. So, basically, you have to account for how much you can pay yourself per hour (or someone else) for essentially polishing the AI ​​and editing the content.
Jasper AI Reviews & Ratings from Customers
If you wonder what other customers and users think about Jasper AI Tools, why not explore Jasper AI reviews on the leading product review platforms? Have a look—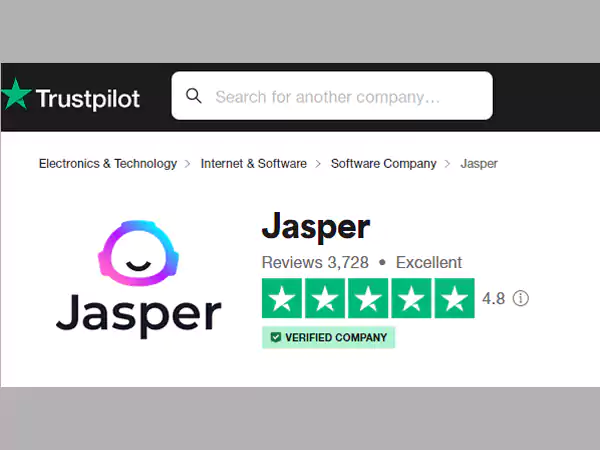 Jasper has a 4.8 out of 5-star rating from over 3700 users.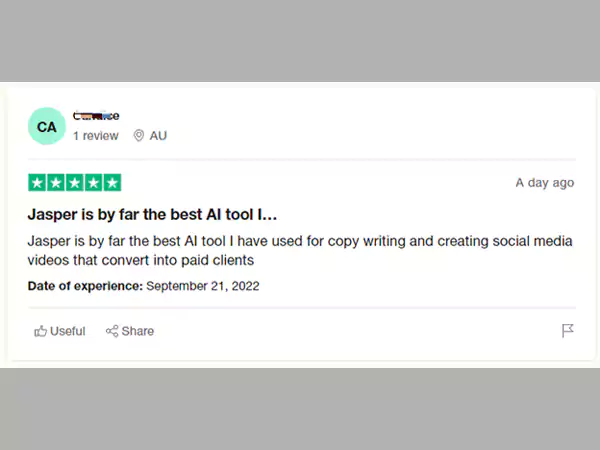 2. On G2;
Jasper has a 4.8 out of 5-star rating from over 800 users.
Jasper has a 4.9 out of 5-star rating from over 1050 users.
Overall, Jasper AI software is rated 4.8 & 4.9 out of 5 on three major review websites including Trustpilot, G2, and Capterra, which are considered some of the most trusted review sites out there.
Jasper Refund Policy
If you think Jasper isn't the right tool for you, know that it also offers a 5-day money-back guarantee. This means, you can try the tool for 5 days and if you are not satisfied with the content written by Jasper, you can ask for a full refund within 5 days of purchase.
To do this, you must first cancel your account with Jasper and then, email hey@jasper.ai to initiate the refund process.
Jasper AI Alternatives / Competitors
If you are still not sure that Jasper.AI is the right platform to create content for your site, you can consider the below-listed alternatives (both AI and freelancing) that can offer similar services—
AI Alternatives
Real People Freelancing Alternatives
These Jasper AI alternatives listed above have some compelling features that can get the job done perfectly. In fact, you can find those features you can't access in Jasper. So, this is an advantage!
Note: Some tools may differ, but you can use them efficiently.
FAQs | Jasper AI 2022
If you still have some questions in mind, then clarify them by reading this FAQ section—
Q: Who Uses Jasper.AI?
A: Since this is fairly new, there isn't really a huge list available, but to be specific, the most common types of sites and companies that use Jasper.AI to produce content are bloggers, YouTubers, high school and college students, real estate agents, digital marketing agencies, email marketers, SEO writers, screenwriters & novelists, lead generation sites and Media sites.
Q: Does Jasper.ai have any discounts or coupons?
A: No, it comes with a 7-day trial where you get 10,000 words of content for free. However, there are some platforms that provide special links using which you can get up to 5,000 credits.
Q: How many copywriting templates Jasper AI offers?
A: Jasper AI provides 50 short-form copywriting templates that allow you to complete a variety of everyday copywriting tasks. These include AI templates for writing content for these categories: Blog, Advertising, Ecommerce, Framework, Email, Website, Google, Social Media, Video, and SEO.
However, since it is not possible to name all the individual templates included in Jasper, here are a few notable ones listed—
Amazon Product Features (bullets)
Amazon Product Description (paragraph)
Perfect Headline
Engaging Questions
Website Sub-Headline
Quora Answers
Company Bio
Blog Post Intro Paragraph
Blog Post Conclusion Paragraph
Feature to Benefit
Problem-Agitate-Solution (PAS) Framework
Product Description
Creative Story
Content Improver
Blog Post Topic Ideas
Blog Post Outline
Sentence Expander
Personal Bio
Text Summarizer
Paragraph Generator
AIDA Framework
Facebook Ad Headline
Facebook Ad Primary Text
Google Ads Headline
Google Ads Description
SEO – Title and Meta Descriptions
Real Estate Listing – Residential
Review Responder
SEO – Blog Posts – Title and Meta Descriptions
SEO – Homepage – Title and Meta Descriptions
SEO – Product Page – Title and Meta Descriptions
SEO – Services Pages – Title and Meta Descriptions
Unique Value Propositions
Email Subject Lines
Video Script Outline
Video Titles
Video Script Hook and Introduction
Video Description
 Explain It To A Child
 Photo Post Captions
Short Social Posts
Ridiculous Marketing Ideas
Marketing Angles
Persuasive bullet points
Video Topic Ideas
Q: Will Google rank my content if it is AI-generated?
A: Google only cares a lot about whether people are spending time on your content and whether your content is satisfying their intent.
Q; Jasper Monthly Vs Yearly Pricing – Which Plan Is the Better Deal?
A: Jasper.ai offers both monthly and yearly pricing plans. They are as follows—
Here are the pricing plans if you purchase Jasper.ai monthly:

The Starter Plan – starts at $29/month.
The Boss Mode Plan – starts at $59/month.

Here are the pricing plans if you purchase Jasper.ai annually:

The Starter Plan – starts at $24/month instead of $29/month (if billed yearly) and goes up to $499/month.
The Boss Mode Plan – starts at $49/month instead of $59/month (if billed yearly) and goes up to $3600/month.
Now, if you want to save more on Jasper, then of the two, buy Jasper for a full year. With Jasper's annual plans you can get an additional 2 months of benefits or a flat 16% discount that will save you a minimum of $120 or more on the Boss Mode plan, depending on the words you generate.
Q: How to Use Content Improver from Jasper?
A: Since, Jasper AI provides a useful template called "Content Improver" that helps you quickly rewrite the existing content and improve it so if you wonder how you can use it, follow these steps—
Visit Jasper and go to 'Templates.'
Then, choose the 'Content Improver' template and insert something you've already written into the 'Content' section of the template.
After that, choose the 'Tone of Voice.' However, you can also ignore it as it's optional.
Finally, click on the 'Generate AI Content' button and that's it, it will automatically generate the content for you.
Here, also note that if you are not satisfied with any of them, you can click the "Generate AI Content" button to get more outputs until you are happy with the copy.
Q: What are the benefits of using Content Improver from Jasper?
A: No matter whether you are looking to rewrite a few sentences (or paragraphs) from your existing posts or are planning to revise your old blog posts—the "Content Improver Template" is a great solution. Still, to be precise, the benefits of using Content Improver from Jasper are as follows—
Helps you improve your existing copy including headlines, old blog posts, descriptions, and more
Helps you reuse content
Helps you write great product reviews
Helps make your copy better
Q: How to Create Compelling Amazon Product Descriptions?
A: If you are running a niche website to promote Amazon Affiliate products and want to generate product details automatically, then Jasper is an excellent choice for you. It provides a special template called "Amazon Product Description" that automatically creates attractive product descriptions for Amazon listings. To use it—
Click on 'Amazon Product Detail Template' from Jasper Dashboard.
Then, enter the 'Product name' and include the product benefits or features.
After that, click on the 'Generate AI Content' button and Jasper will automatically generate attractive product descriptions.
Q: Has Jasper.ai ever offered a lifetime deal?
A: No. They never offered a lifetime deal, but did offer discounts for launch or early adopters.
Q: Is the content created with Jasper AI considered plagiarized?
A: No, the content that you create with Jasper is not considered plagiarized. In fact, with Jasper the AI ​​created 99.9% of content which is not only unique but also free of plagiarism.
Q: Which languages do Jasper AI support?
A: In total, Jasper AI supports 25 different languages ​​and uses DeepL to translate content in different languages. The languages ​​supported by Jasper AI are:
Bulgarian
Chinese
Czech
Danish
Dutch
English
English (British)
Estonian
Finnish
French
German
Greek
Hungarian
Italian
Japanese
Latvian
Lithuanian
Polish
Portuguese
Portuguese (Brazilian)
Romanian
Russian
Slovak
Slovenian
Spanish
Swedish
Q: Does Jasper.ai come with an affiliate program?
A: Yes. They have an affiliate program where you can earn 30% recurring commission.
Q: Who are the ideal clients to invest in Jasper?
A: The technology and functional capability within Jasper can be applied to the following ideal customers (they get immense benefits from using the Jasper AI services)—
Social media managers and copywriters— who need to quickly create excellent and compelling social media posts.
Content publishers, affiliate marketers, and bloggers—who need original SEO-optimized content with zero plagiarism.
Small business owners—who want to create original product reviews but can't afford a professional writer.
YouTubers—who want clear and unique titles and descriptions for their videos.
Students— who may need help writing essays and assignments.
Q: Is Jasper AI a mobile app or a desktop application?
A: Well, Jasper AI is neither a mobile app nor a desktop application. It is a cloud-hosted tool that you can access through any browser using the URL – https://app.jasper.ai/.
Q: What are the alternatives to Jasper.ai?
A: In regard to the alternatives, the only viable and long-form alternative to Jasper.ai is ShortlyAI, but it's been acquired by them.
Q: What is Jasper Boss Mode?
A: In Jasper Boss mode, you can ask Jasper to generate content with commands just like you would do with Google Assistant or Siri.
Q: What technology does Jasper use?
A: With regard to the technology used by Jasper, it is worth mentioning that it is OpenAI's GPT3 algorithm. They have trained the algorithm to be more suitable for copywriting and conversion – in turn giving birth to Jasper!
Q: Does Jasper come with an API?
A: No. According to official sources, there is no API in Jasper AI right now. However, they can launch the API in future as per the request of the user.
Q: Is there any money-back guarantee with the Jasper AI plan?
A: Yes. As per Jasper refund policy Jasper AI offers a five-day money-back guarantee. So, if you are not satisfied with Jasper AI, you can just send a mail to hey@jasper.ai explaining the problem, and they will refund your 100% money.
Final Verdict on Jasper AI Writing Tool
Overall, Jasper AI is worth the price and reliable. Its products can be a good investment for those who want to save time and money by outsourcing their content. This will help you create a high-quality copy with few mistakes, as well as reduce your risk of making mistakes while writing.
However, chances are if you create content with Jasper, you have to read and proofread everything, then verify the information, and then edit out what's wrong. So, it's likely that you end up taking as much time as you need to create original content.
Bottom Line
That's all there is to discuss regarding Jasper AI. Hopefully, this review clears any sort of confusion about whether Jasper AI is worth your money or not!