*Note – this post contains affiliate links from which we may receive a commission at no cost to you.*
Novilla Mattress Review [With Coupon Code]
If you are looking for a comfortable mattress, you can't go wrong with the Novilla Mattress. Our Novilla mattress reviews can help you find the ultimate option. These mattresses are not only designed to offer comfort. Thanks to their ingenious 4-foam layer design, they deliver superior pressure relief.  In fact, their construction allows you to sleep in any position without risking pain.
Their gel-infused memory top foam layer on the other end offers adequate cooling to the body. With this design, your body doesn't only receive ample cushioning. You also won't have to worry about excessive sweating through the night. So below, we've listed the top 4 best Novilla mattresses to help you choose the right option.
1. Novilla Bliss Memory Foam Mattress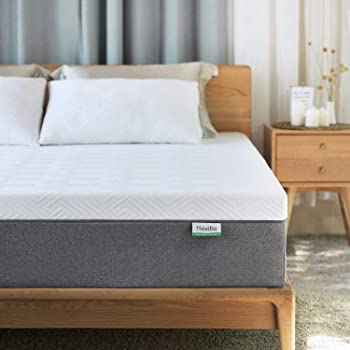 If you are looking for a pressure relief mattress, the Novilla Bliss is what you need. The foam mattress offers adequate cooling and pressure relief. The foam mattress features an all-foam 4-layer system to improve its functionality. The top 3-inch layer integrates a cooling gel-infused foam layer. The foam layer ensures you enjoy optimal cooling and ventilation.
Underneath the cooling gel foam is a 2-inch airflow comfort foam and a 3.5-inch air circulation foam. Furthermore, below the air circulation foam is the 3.5-inch supportive high-density base foam. This 4-layer foam system aligns your spine.  At the same time, it distributes your body weight for superior pressure relief.
Its bamboo fabric on the other end improves the mattress's breathability by up to 30%. Paired with the airflow comfort foam layer, you will enjoy optimal airflow. Additionally, made from safe foam and non-toxic materials, the mattress is odorless. It's one of the best mattresses under $300 on the market.
Features:
All foam 4-layer system
Rayon cotton fabric mattress cover
CertiPUR-US certified
Medium firm design
Pros
Accommodates all sleeping positions
Compatible with all bed frame types
Flipable design
Thick 12-inch mattress design
Cons
It can be a little hard surfaced for some people
2. Novilla Serenity Hybrid Mattress
With the Novilla Serenity Mattress, you don't have to worry about your partner's night trips to the bathroom. The mattress features a patented motion isolation design topper. Thanks to motion isolation, the mattress limits motion transfer caused by moving. Designed with a pocket spring design, every part of the mattress works independently. This means that when your partner moves, you will not feel a thing.
A fast response foam offers just enough bounce to make moving on the mattress easier. To support all body frames, the CertiPUR-US mattress is also built with strong inner springs. The inner springs deliver added strength. At the top, the bamboo rayon fiber cover offers increased breathability and ventilation.
Underneath the fabric cover is gel-infused memory foam. The gel infusion offers extra cooling for comfortable sleeping. Furthermore, the gel-infused foam underneath is a comfort foam. The comfort foam offers extra cushioning. The individual pocketed springs under the comfort foam are what deliver motion isolation. At the bottom, the mattress is supported by the high-density base foam.
Features:
Innerspring mattress
Motion isolation
Edge support
Medium firm mattress
Pros
Designed to offer motion isolation for minimal transfer
Rayon fiber cover for breathability and ventilation
Gel-infused memory foam for added cooling
Compatible with any kind of bed frame
Cons
A little heavy and difficult to move around
3. Novilla Vitality Hybrid Mattress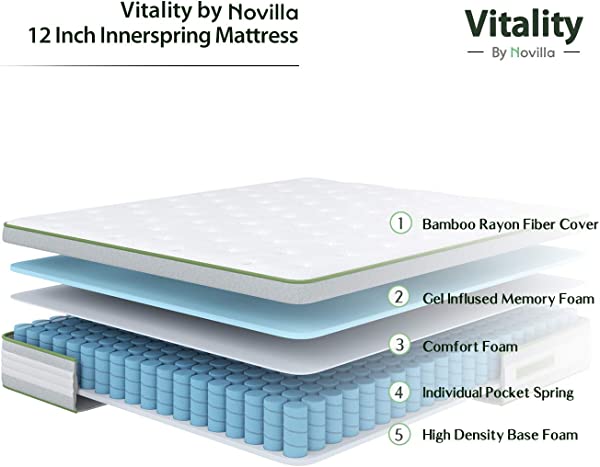 A bamboo rayon fiber cover of the Novilla Vitality improves comfort and functionality. Thanks to its delicate fabrication, the rayon fabric is soft on your skin. The cover is hypoallergenic too; making it perfect for sensitive skin. Thanks to its thin fibers, the fabric cover offers great breathability and ventilation. Plus, its light build prevents it from sticking to your body during hot weather.
Covered by the rayon fabric is a gel-infused memory foam layer. This gel-infused layer offers optimal cooling throughout the night. Paired with the gel-infused layer, the comfort foam enhances padding and cushioning. Furthermore, underneath the comfort foam are individual pocket springs.
Thanks to this spring pocket design, you will experience superior motion isolation. For added support, the mattress is also sealed off with a high-density base foam layer. This gives it just the right bounce. Nevertheless, its mild firm core support allows you to enjoy any sleeping style. With this design, the mattress offers optimal support to the spine, back, sides, and stomach.
Features:
Bamboo rayon fabric cover
Medium firm mattress
Gel-infused foam layer
Individual pocket spring
Pros
Medium firm core support system to accommodate different sleeping styles
Superior spine, stomach, back, and side support
Offers total pressure relief at pressure points
Delivers superior cooling and breathability
Cons
You may have to wait more than 72 hours for the mattress to set
4. Novilla Mattress Topper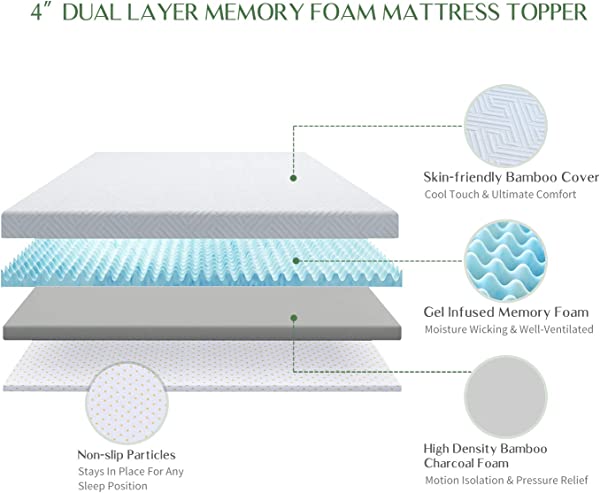 Integrating a washable top cover, the Novilla mattress topper is quite easy to care for. The removable and washable cover also allows you to maintain hygiene. When in use, the bamboo cover offers a skin-friendly functionality. Thanks to this fabric feel, you will enjoy cool touch and comfort through the night.
Underneath the bamboo cover is gel-infused memory foam. The gel-infused foam offers superior comfort. At the same time, the gel foam offers great moisture-wicking, cooling, and ventilation. Additionally, the memory foam design makes the mattress deformation-resistant. Below the gel-infused memory foam is a high-density bamboo charcoal foam.
This bamboo foam layer helps to minimize motion transfer whilst providing pressure relief. To help the mattress stay in place, it is also designed with non-slip particles at the bottom. With this design, you have the freedom to explore any sleeping positions. Its versatile design doesn't limit you to use it on regular bed frames. You can also use the topper for sofa beds, RVs, outdoor yoga, and even camping.
Features:
Multi-usage mattress
2-layer design
Washable bamboo cover
Adjustable elastic strap
Pros
Elastic straps to adjust cover according to the mattress height
Non-slip cover bottom keeps the mattress in place
High-density memory foam conforms to your sleeping curves and aligns the spine
Versatile design allows you to use it for camping and yoga, just to mention a few
Cons
A little too stiff for people with smaller frames
How To Choose The Best Novilla Mattress
There's no doubt that the Novilla mattresses are amongst the top best brands in the market. However, choosing the right mattress for you may not be easy. Thus, along with the Novilla mattress reviews above, it is a good idea to know features to look at. In the guide below, you will find the key features to help you choose the right mattress.
Mattress Layers
Generally, the Novilla mattresses feature a 4-layer design. This comes in the form of an all-foam system or foam and spring system.
All Foam Layer
For the all-foam system, the top layer features an organic bamboo fiber fabric cover. The cover promotes adequate air ventilation, breathability, and moisture-wicking. Additionally, this fabric design doesn't only leave your body dry and comfortable.
It also helps to prevent mold, dust mites, and other allergens – making it hypoallergenic. Below the cover, a gel-infused memory foam contours to the shape of your body. Whilst it offers a memory contour, it also draws heat from your body to leave you cool all night. The third layer is a comfort layer designed with adaptive poly foam.
The comfort layer offers extra cushioning whilst conforming for pressure relief. This leaves the shoulders, lower back, and hips comfortable. Underneath the comfort layer is the high-density base foam for extra support. This foam layer system is ideally designed for those with back pain.
Foam and Spring
The second option is the foam and spring layer option. In this case, individually packed springs replace the comfort layer. The springs don't only provide the firmness needed for pressure relief. They are perfect for those looking for minimal motion transfer. This means that when your partner moves on the other side of the bed, you will not be affected. The independently moving springs help to minimize motion transfer caused by movements.
Mattresses Type Comparison
| Type | Bliss (Memory Foam) | Serenity (Hybrid) | Vitality (Hybrid) |
| --- | --- | --- | --- |
| Sizes | T/F/Q/K | T/F/Q/K | F/Q/K |
| Thickness | 10″ /12″ | 10″ | 12″ |
| Firmness Scale | Medium: 5 | Medium: 6 | Medium: 6.5 |
| Heavy person friendly (over 230 pounds) | Yes | Yes | Yes |
| Sleeping Cool | Yes | Yes | Yes |
| Motion Isolation | Yes | Yes | Yes |
| Additional Information | Novilla Bliss memory foam mattress is designed with a 4-layer foam to provide maximum cooling comfort and balanced support to help people who keep tossing and turning, light sleepers, and people who feel hot while sleeping. | Novilla Serenity hybrid mattress achieves a unified balance between deep comfort, exceptional pressure relief and durable support for your body. The mattress was designed to adapt to the body and provide support as your back shifts throughout the night. | Novilla Vitality hybrid mattress limits the motion transfer you feel from partners or pets that move during the night. The pocket springs work independently of each other so that neither partner is disturbed by movements during the night. |
| Price | Check Price | Check Price | Check Price |
FAQs
Q:  Are Novilla Mattresses Any Good?
A: Yes. In fact, Novilla mattresses come with a host of benefits. The key benefits include:
Gel foam leaves your body cool when sleeping
Minimal motion transfer for uninterrupted sleep
Edge support
Contours to the shape of your body without becoming deformed
Spine alignment and pressure relief at the back, hips, and shoulders
Antibacterial and hypoallergenic fabric cover
Environmentally friendly and CertiPUR-US certified
See FAQ here
Q: How Long Should I Wait Until I Can Use My Mattress?
A: After setting up your Novilla mattress, you want to wait for at least 72 hours to let it set. You can then begin to use it.
Conclusion
With the Novilla mattress, your sleep and health will most certainly improve. You no longer have to worry about back pain or even, the constant motion transfer from your partner. So, choose your ideal pick from the Novilla mattress reviews above for rested nights. Our personal favorite for the top pick is the Novilla Bliss Memory Foam Mattress.