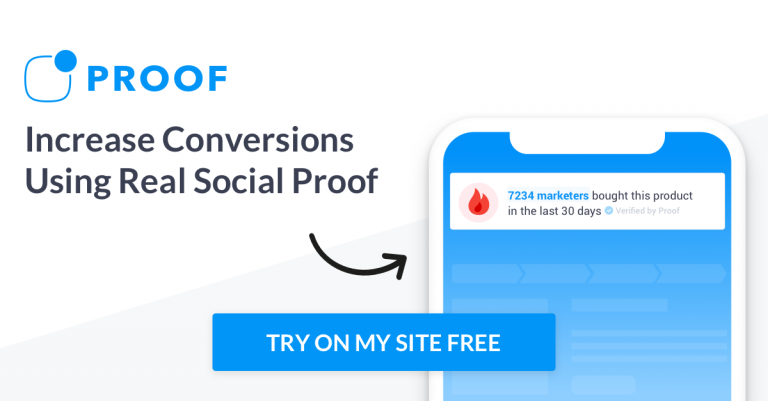 *Note: This post contains affiliate links from which I may receive a commission at no cost to you.*
If you've heard of Proof, you may think of it as a service that notifies website visitors of actions happening on the site in real-time. While this is still accurate, the focus of the company has broadened. The creators of Proof decided it was time for a rebranding and to offer more sophisticated and up-to-date services to help businesses build social proof. You can still get notifications but Proof now offers a far more extensive service as well. They've divided their company into two separate but complementary tools, Pulse and Experiences, which are priced separately. Let's take a look at why social proof and personalization are so important and how Proof works to leverage these principles.
Pulse: Instant Social Proof
Pulse is Proof's original service, although it's now more powerful with added features. The basic concept is that people visiting your website can instantly see social proof as actions of other visitors appear on the screen. For example, "50 people are on this page right now," "2,000 people have already downloaded this report."
Live Visitor Count. Displays the number of people on a page or site in real-time. This can create scarcity if you're offering a limited number of products. Displaying visitor count works especially well for high-traffic pages.
Hot Streaks. Shows how many people have recently taken action on your site. This can not signups for a free trial, webinar, or any offer.
Recent activity. Display any type of recent activity on your site.
Zapier integration.
Customize settings for each campaign. You can change display rules, position, and timing for different campaigns.
Track results with A/B testing. You can test pages using Pulse vs. without and see the difference in your stats.
Simple setup. To install you only have to copy and paste the pixel into your site's header.
Translate into multiple languages. If your business is global, you can set up Proof in different languages for custom audiences.
Mobile optimized. Many of your customers are probably using mobile devices. Proof is designed to look great on mobile phones and tablets.
Proof works with many other apps. While Proof by itself is an effective tool to turn visitors into customers, it's even more powerful when you combine it with other apps. Proof integrates with many other services, such as WordPress, Clickfunnels, Zapier, HubSpot, LeadPages, AWeber, InfusionSoft and many other popular marketing apps.
Why Social Proof Works
When visitors to a website see real-time evidence of others buying something or taking another action (such as signing up for a webinar or ordering a free sample), it's the digital equivalent of watching people line up. Social proof is vital for any type of action or purpose. It also sets off the FOMO (fear of missing out) impulse.  Here are some of the ways Pulse helps you build social proof.
Landing pages. When people click on your page, either from an ad, social media post, email, or blog post, Proof makes your call-to-action more compelling.
Check-out pages. Even when people choose a product and place it in their shopping cart, the sale isn't complete. Abandoned shopping carts are a pervasive problem with online shopping. Proof can help to reduce this problem and get more customers to complete their purchases.
Registration pages. For example, the registration page for a webinar. When visitors see how many others are signing up, your event looks more exciting.
That's why stores that are busy tend to get busier and the longest queues at events such as trade shows stay busy while passersby ignore empty stores and shorter lines. Pulse provides one of the simplest and most effective ways to create social proof on your website.
Pulse Plans and Pricing
There are five plans to choose from based on how many visitors you get. All plans include unlimited domains and notifications. Proof pricing is as follows:
Basic – $29/month or $24/ month billed annually . 1,000 unique visitors per month.
Pro – $79/month or $66/month billed annually. 10,000 unique visitors per month as well as live visitor count, hot streaks, and more.
Business – $129/month or $108/month billed annually. 50,000 unique visitors per month and priority support.
Premium – $199/month or $166/month billed annually. 100,000 unique visitors per month.
Platinum– $299/month or $249/month billed annually. 300,000 unique visitors per month.
There's also a 14-day free trial for Pulse.
If you decide to take an annual plan, you are basically receiving two months for free.
Proof also offers a 14-day free trial so you can test all of the features without any commitment.
Experiences: Personalize Your Site
Experiences is the new and even more powerful aspect of Proof. With this suite of tools, you can customize your website to the needs, preferences, and demographics of each visitor. As with Pulse, you can do this without having to do any programming. Here are some of the ways Experience lets you customize your website.
Change text. Make edits to your copy based on the particular preferences and behavior of your visitors. You can change entire content blocks in minutes.
Swap CTAs. You don't have to show the same CTA to every visitor. Display offers that are appropriate based on visitors' needs and past actions.
Change images. Give your site a customized look to different visitors.
Hide elements that aren't relevant to all visitors.
Add personalized content.
Run experiments. You can set goals and run A/B tests to see the results of your personalization experiments.
Make Your Website More Relevant to Each Visitor
For the most part, website content is seen as static. You may customize email campaigns but probably show the same text, images, and offers to everyone on your website. With Proof Experiences, this no longer has to be the case. You can now personalize your site and segment features and appearance based on behavior, traits, and events. This is extremely powerful and something very few businesses are doing so far. Experiences has a sophisticated but easy to use process for setting up campaigns. You create personalized experiences for audiences based on their demographics, past buying behavior, and more. A few examples of how you can use this:
Create targeted CTAs. If customers have already bought a certain product, why keep promoting it to them? You can show them more relevant offers.
Make your content match visitors' location, industry, or the size of their company.
Track which pages visitors have viewed, alter content based on the URL.
Introduce new visitors to your company with relevant data. Returning visitors, however, don't need to see this every time they come back.
Fast-loading pages. Personalizing your site won't slow your site.
Experiences Pricing
The cost of Experiences depends on the number of visitors and the features you want to access.
Essentials: $399/month for up to 25,000 visitors/month. Includes 2 users, 5 conversion goals, audiences by behavior, email support and A/B testing.
Growth: $599/month for up to 25,000 visitors/month. 10 users, account manager + Slack, advanced editor, audiences by traits & events, 15 conversion goals, advanced integrations, more.
Both Essentials and Growth plans go up as you have more visitors. For example, Essentials is $799/month for up to 50K visitors while Growth is $999 month for 50K visitors, with plans for more visitors also available. There's also a Scale option with unlimited users and the ability to inject HTML and CSS. The pricing for these plans is customized to each customer.
Proof: Value and Recommendations
If you want to get more conversions and return visitors to your website, you have to make sure your content is relevant and targeted. It also helps to present social proof. These strategies are important whether you're selling physical or digital products, promoting a webinar, or trying to get more newsletter subscribers.
Pulse taps into the universal principle of social proof. When prospects see live evidence that what you're offering is popular, they can't help but feel pressure to join the crowd. You already know the power of ratings and reviews and you should still do everything you can to get positive reviews. However, adding the power of live social proof, as Pulse makes possible, will help you increase conversions even more.
Experiences offers another, equally valuable service, allowing you to customize your website to different visitors' needs and behavior. With this ability, you can improve conversions and turn your website into an even more valuable asset.
Both Pulse and Experiences are effective tools for anyone who wants to attract more return visitors and increase conversions.  Both are easy to implement on any landing page or website without the need to do any complex coding. Pricing plans are flexible and allow you to upgrade as you get more traffic. Whether your goal is to sell products, increase opt-ins, get people to sign up for your webinar, or take any other action on your website, Proof helps you get better results.
Have you tried UseProof? Thoughts on the review? Let us know in the comments below!