*Note: This post contains affiliate links from which I may receive a commission at no cost to you.*
Sellfy – is a cloud-based software developed to meet eCommerce needs. The platform comes as an easy-to-use tool that makes it easy and fast to create, setup, and deploy your new digital store. Bloggers, business owners, and individuals may use it to start selling both digital and physical goods through varus platforms including YouTube, SoundCloud, Instagram, Facebook or your own website. Sellfy comes as an instrument to manage, represent, and sell products as well as to drive the target audience.
The key platform's feature is the fact it can be used either as a separate storefront as well as with your already existing website. You may create an online shop from scratch, customize it, add products, and then have it embedded with your site. As an all-in-one solution for eCommerce, Sellfy offers payment integration features in addition to a custom domain, and other options depending on the plan you choose. Let's have a look at how it works and what it has inside that beautiful box.
Ease of Use
Sellfy is very easy to use. You do not need to be an expert to launch and set up your own online shop. It comes with a simple product management system as well as easy tools to customize the store itself. No coding or web design skills are necessary.
Newbies may get their newly established stores running in several minutes. Moreover, the platform offers a 14-day free trial to check how the system works. It might be a good idea to try all benefits without paying a penny. To make the most of free access, you only need to sign in.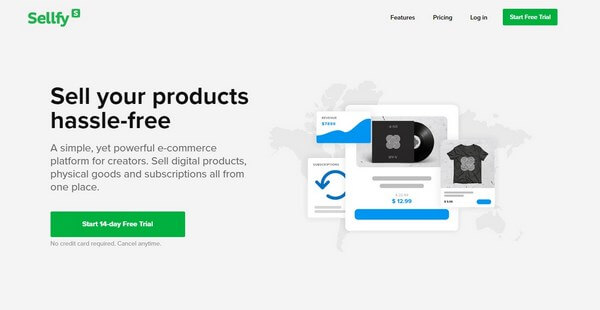 The registration procedure includes several easy steps:
Insert your email.
Type in the password.
Enter the store name.
The system will send you a confirmation letter to verify your password. It might be necessary to get full access to the control panel. Unfortunately, there is no way to sign in using Facebook or Google account to make the process even faster.
The next stage is to provide a few facts about your future project. It will let the platform help you with further customization and setup. Users will need to choose from various business categories depending on what product they are going to sell. Those categories include software development, music & audio, photography, graphic design, etc.
How does Sellfy work?
Sellfy is an ecommerce platform that makes it easy to sell digital and physical products online. You can either set up a Sellfy storefront or embed a Sellfy shopping cart on your website. Thousands of writers, designers, music producers, retailers, and filmmakers are already using the platform, and it's ideal for those who already have an established audience on social media or have a blog following.
In 2017, the platform scrapped its marketplace along with the Search bar, choosing to focus on gleaning the individual sellers and their stores. Their mission is to build the tools each creator needs to help them foster the personality of their store, and help them grow their business.
The platform does all the heavy-lifting of digital goods' sellers: product storage, payments, and product delivery while providing sellers with tools to create, build and grow their business with ease.
If you want to sell physical products you will need to have your own storage and delivery methods. However, everything else is automated the same way as in digital product selling leaving you with a lot of time to focus on your business growth and marketing.
Sellfy review: storefront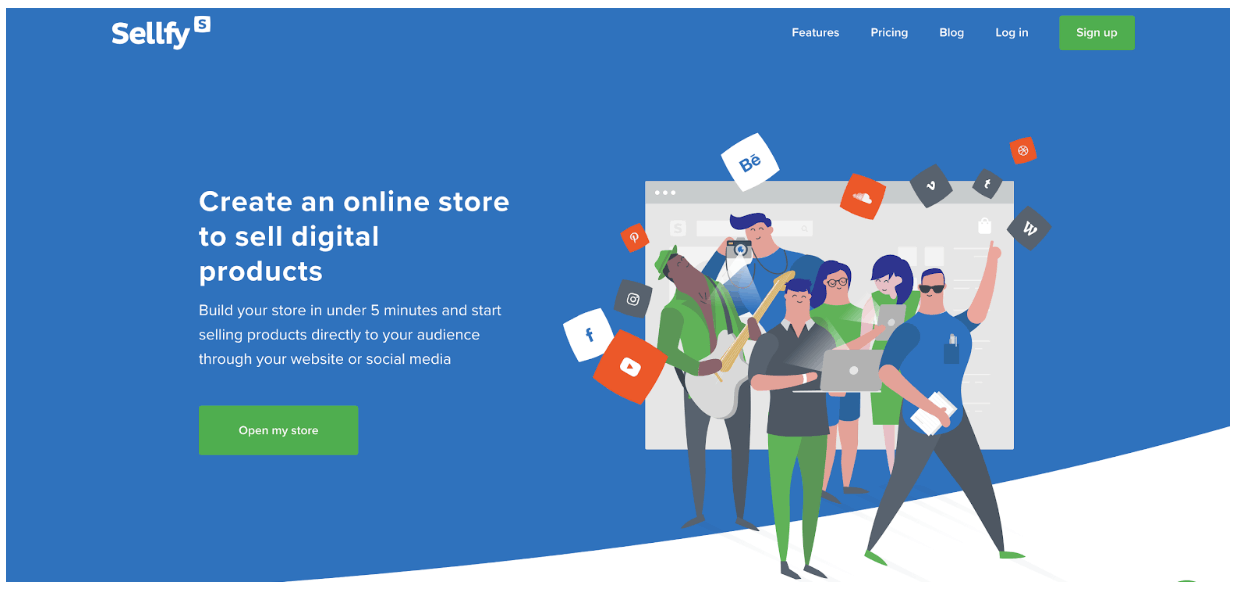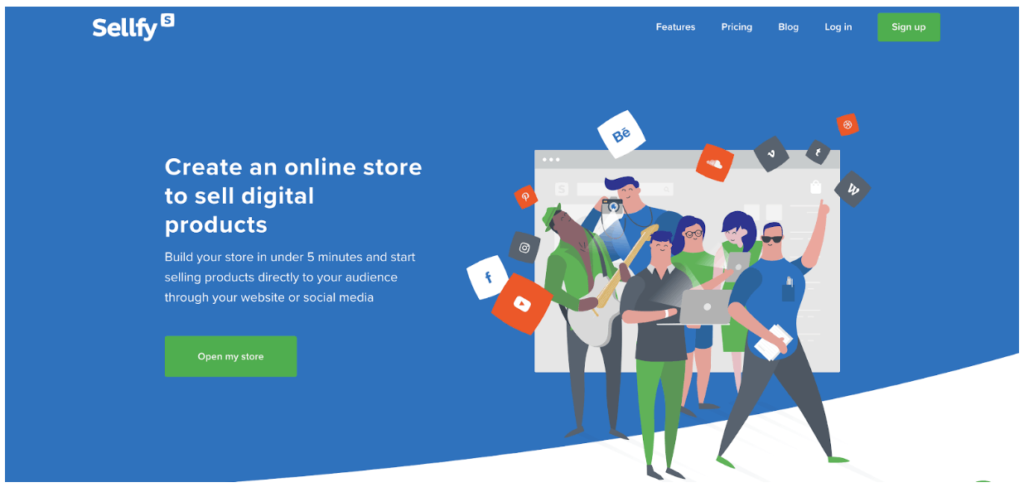 If you don't have an existing website and wish to run a full online store, Sellfy makes it easy to get one up and running. The user-friendly website builder will let you set up in under 5 minutes, and there's plenty of room to customize the site to fit your branding. From buttons to text, to backgrounds — you can change all of it or none of it.
There's also an option to greet your customers in their language, by letting your customers see your website translated into their language based on their location. Most importantly, all of this comes mobile-ready, with an exceptional shopping experience for your customers regardless of whether they're browsing on desktop or mobile.
Products

Digital Products & Subscriptions
Now that we've established that Sellfy is a platform great for selling digital goods, let's take a closer look at what that means. The platform supports the following uploads:
Audio
Films
Videos
Ebooks
Software
Graphic design
And more
So if you're looking to sell digital files, this is a great platform to get started. Sellfy makes sure you've got every bit of protection on your store. They limit downloads per user and (if you're selling a pdf) add unique stamps on all downloads (the buyer's email address).
You can also take one-off payments or create subscription products. Just decide how frequently you want to charge your customers – daily, weekly, or monthly and enjoy a recurring stream of income.
Physical Products
In addition to the digital products, you can also sell physical ones. You can choose to trade them either side-by-side or only one of the two. The platform supports any product that requires shipping:
T-shirts
Books
Art
Merchandise
Subscription boxes
And anything else
A great business would make use and incorporate both digital and physical products. For example, a photographer could sell his or her pictures in both formats as a digital download and as a framed canvas picture that one could hang in an office or at home.
Another great example of such a store that incorporates both types of products is a store where one sell eBooks or online courses together with additional physical goods like t-shirts, hats or even premium printed copy of those eBooks.
Reports & Tracking pixels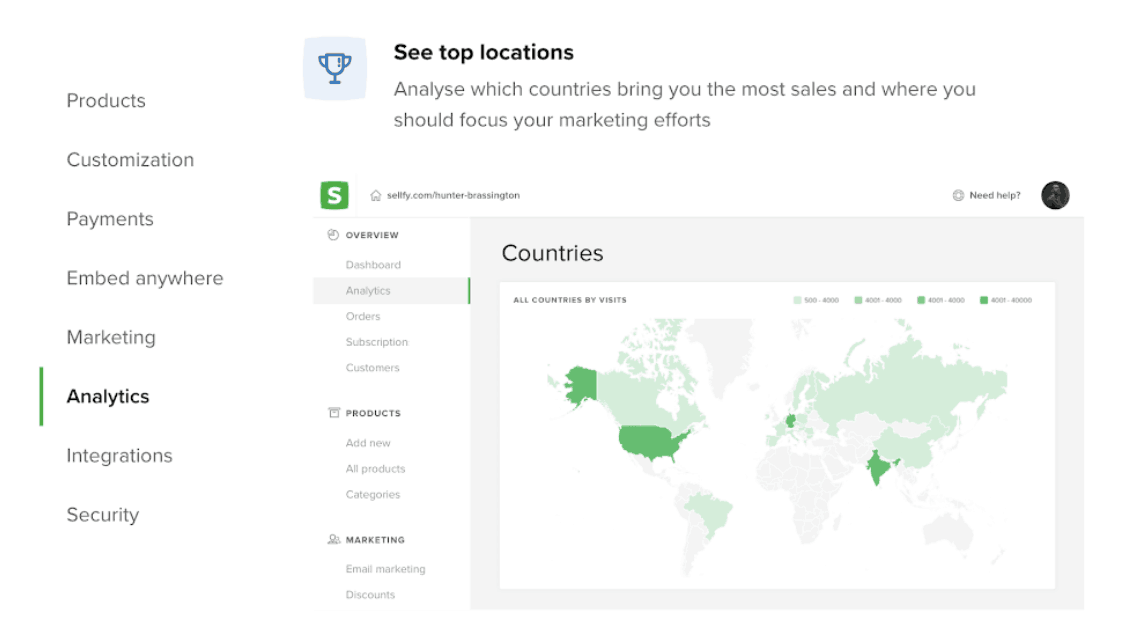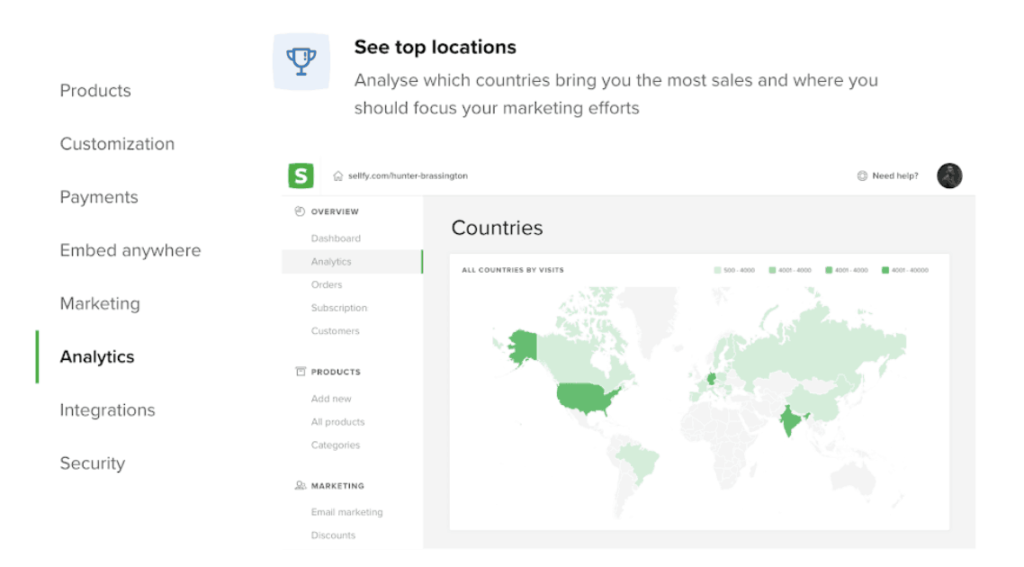 The platform comes with powerful analytics and reporting features. You can track where your traffic is coming from, your best selling products, and even where in the world you're most popular.
You can also track social media ad pixels to see data for your Facebook and Twitter ads in one place. You have all the information you need at a glance so that you can tweak and optimize to ensure growth.
Marketing & SEO
Sellfy also comes fully equipped with built-in email marketing and SEO features. This means sellers need to worry less about finding extensions that will work with their ecommerce store.
You can start building your mailing list and then use it to send newsletters, thank you notes, product updates and more right within Sellfy. There's also an option to generate discount codes under the same roof, and boost sales with upsells. You can keep engaging customers with steals and deals, without needing to find a third-party provider.


You can also embed the Sellfy shopping cart anywhere on the world wide web. You can add an extra channel by integrating with your Facebook business page or you can add a product gallery on your blog. There is no right or wrong way to persuade people to buy your products, and being available in more than one place may be beneficial.
Finally, you can also add cards and end screens (clickable calls to action that slide in and out on your video) on YouTube which will drive traffic to your store.
Integrations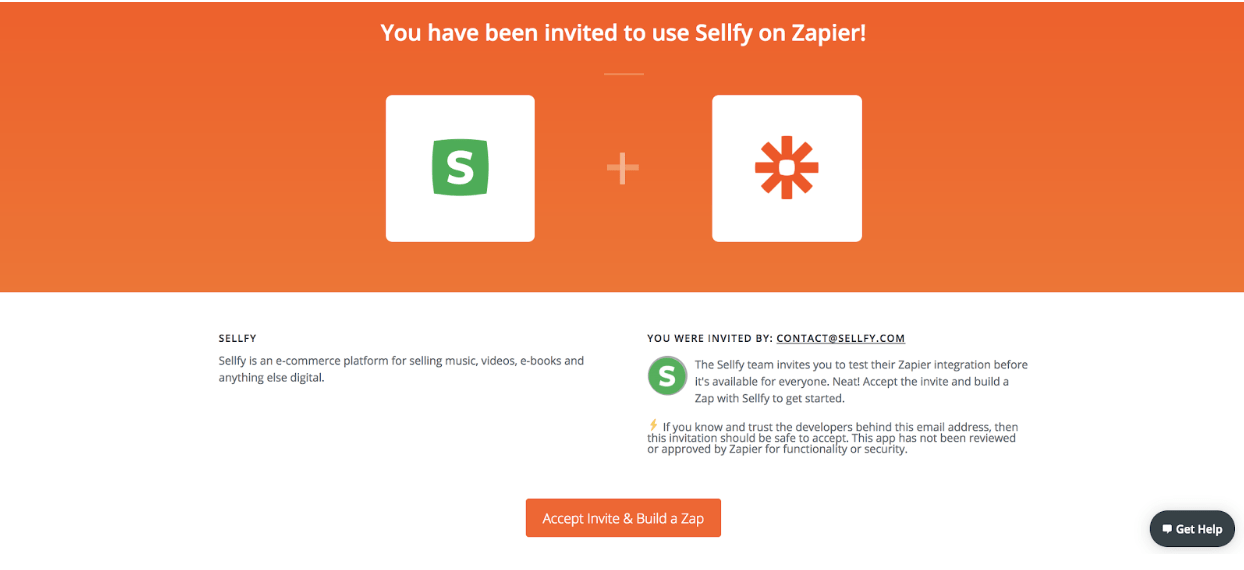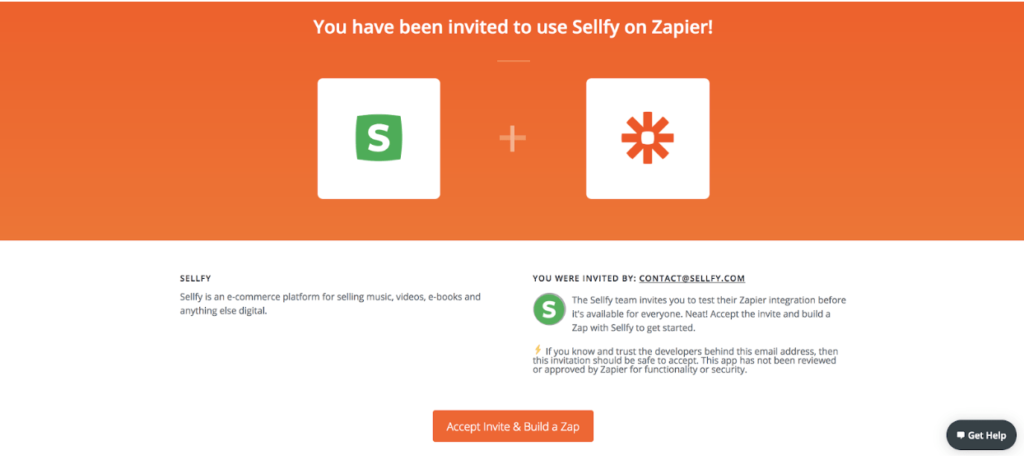 Whatever features Sellfy lacks, you can find it on Zapier — an app store for all your ecommerce needs. You can integrate with thousands of extensions and plugins, designed to automate everything from marketing, to selling, to customer management.
Lastly, Sellfy integrates with Facebook Messenger, which means you can connect and talk to your customers live, providing them with top-notch customer service.
Two payment options
It's becoming tradition, or almost a no-brainer, to offer the two most common payment options for all ecommerce platforms. At the moment, sellers can either accept payments via PayPal or Stripe. The good thing about this is that PayPal takes payments from almost 200 different countries, and Stripe makes it easy to pay by credit card on your store.
Sellfy pricing
The good news is, Sellfy has a 14-day free trial where sellers can give all these features a test-drive before they commit to the $29 or $99 per month subscription fee. There are only two plans to choose from, and one caters towards beginners, while the other serves higher volume sellers. The biggest downside with the cheaper Pro plan is that on top of the monthly fees, there's a 2% transaction fee applied per transaction. So let's take a look at what you get for your money:
Pro $29 –  Unlimited products, storage & delivery, custom domain, instant payouts, discounts & upsells, advanced analytics, 2% transaction fee, and more features.
Pro Plus $99 – All of the above, no transaction fee and premium support.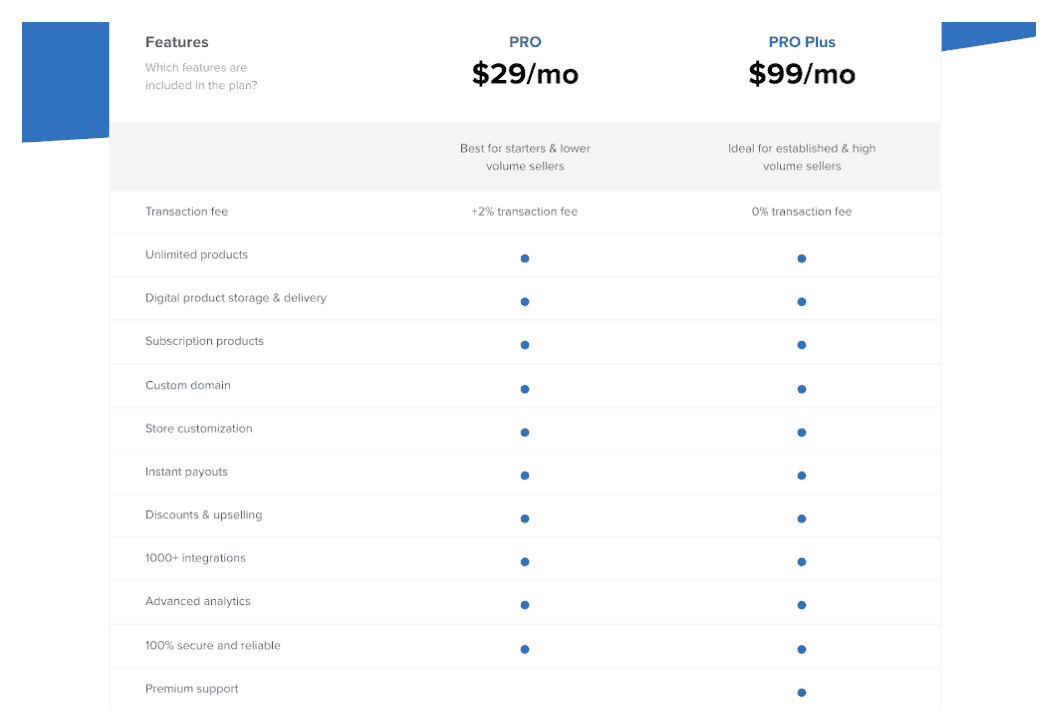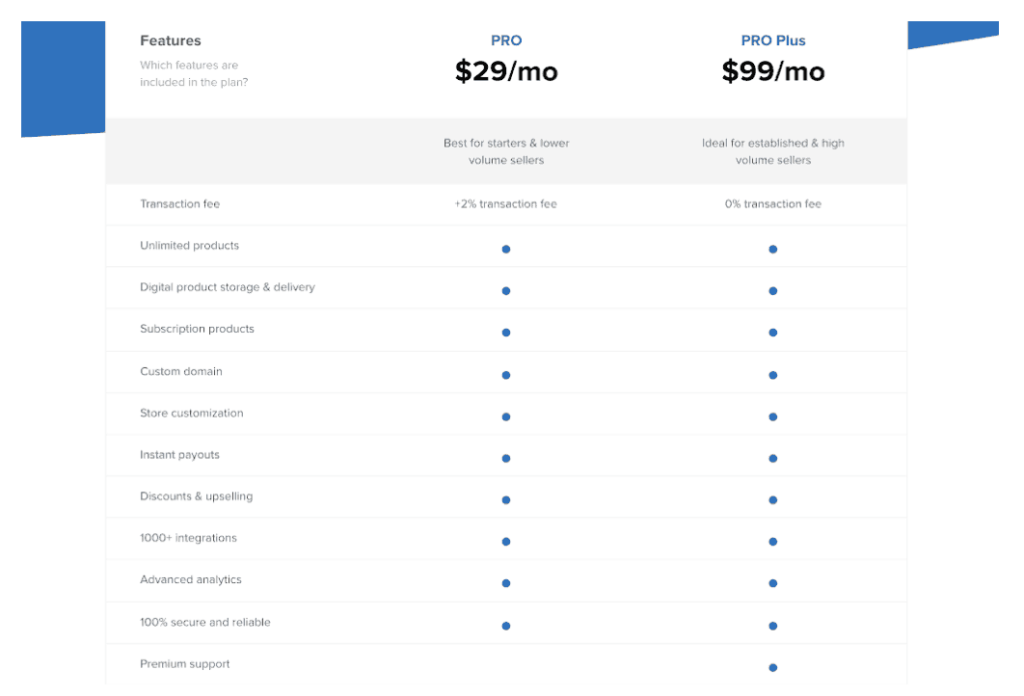 Conclusion
Sellfy is a great product and we here at Simple Internet Profit highly recommend using it for your next e-commerce venture.